Apple iPhone Camera Evolution Told Through Photographs
The evolution of the iPhone camera since Apple debuted the original iPhone in 2007 is now being told through a series of photos comparing the image quality of each successive iPhone generation. Lisa Bettany from Camera+ posted a series of macro shots captured with the iPhone, iPhone 3G, iPhone 3GS, iPhone 4, iPhone 4S, and iPhone 5.
"It's clear from the detail shots that the iPhone 5 produces sharper photos with more accurate white balance, contrast and saturation," TUAW reported Bettany saying of the resulting images.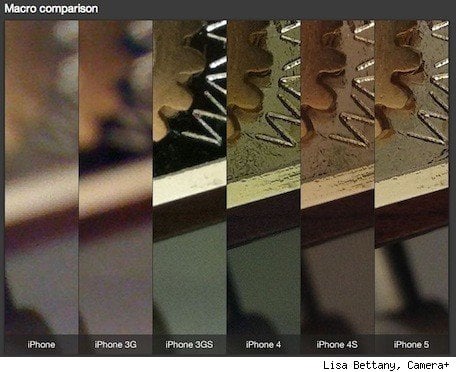 Also, it's apparent in the early days of the iPhone that photography was not a major focus for Apple. The first few generations of the iPhone lacked any sort of flash–later generations were equipped with an LED flash module. Additionally, the early iPhone models lacked the ability to send picture messages through MMS, and that feature was only later enabled through a software update.
Given the popularity of the iPhone, users recognized the potential of having an always-on camera that they can carry with them. The iPhone soon became the most popular camera used to upload images to photo sharing site Flickr, and Apple later quickly invested in making the iPhone a photography tool with better sensors and increasing the megapixel-resolution with successive devices. Culminating with the iPhone 5, the device now has an 8-megapixel sensor and a new optics mechanism with Sapphire glass crystal to protect the lens.
With improving cameras on mobiles, smartphone cameras have been used in recent years to photography magazine covers, weddings, and fashion, as well as shoot professional videos.
Apple is rumored to be unveiling the next iPhone model this fall, dubbed the iPhone 5S, that may increase the megapixel count of the camera to compete against Sony's and Samsung's flagships. Both the Xperia Z from Sony and the Galaxy S4 from Samsung contain 13-megapixel cameras. Other manufacturers are going different directions with the camera on their phones. HTC is focusing on low-light photography with indoors scenes with the Ultrapixel camera on the HTC One. The HTC Zoe feature is also a popular software feature that's highlighted on the One with the camera. Nokia is focusing on its PureView camera technology that combines low light photography and optical image stabilization. Its 41-megapixel PureView technology is rumored to be making its way to a Lumia phone model.