Apple Music Android Release: 5 Things to Know
It's finally here. Apple Music launched on Android today, making it the second app ever released by Apple for Android smartphones and tablets. Since first being released users have patiently been waiting for Apple Music to come to Android, and now that it's here, below are a few things users need to know.
Apple Music is the first app from the Cupertino company to be available on Android that serves a purpose, and will be used. The first was a an app to switch from Android to Apple, which was used once and that's it. Apple Music is completely different. It's a sign that Apple is finally recognizing Android as a useful resource it needs to tap into, and access the millions and millions of users.
Read: How to Transfer Spotify Playlists to Apple Music
There are countless ways to enjoy music on Android. From Google Music, to Spotify or Pandora radio, but this could be the best option yet. The Apple Music app for Android is currently listed as a "beta" release, but it comes with almost every feature that made it popular for iPhone users. Read on for all the details.
In June Apple announced that its popular music service would be coming to Android users, and it's families, and starting today most of that is available. That said, there are a few limitations as the service is currently listed as a beta. Most of the popular features have been carried over, but a few important ones remain missing for now, exclusive to iOS and the Mac, but they too should be available on Android in the near future.
It's Finally Here
After months and months of waiting today is finally the day that Silicon Valley and the giant that is Apple recognizes Android. Millions of users can head to the Google Play Store and download Apple Music for Android right now. Apple even tried to make it "look and feel like an Android app" rather than have an iOS feel to it, making Android users feel right at home with the Apple service.
As we said above, it's a beta release, with a few features missing. That said, it's still a pretty complete and compelling experience that could have users ditching Google Music in favor of Apple's selection. Google's made huge strides with its music service as of late, but it's pretty clear that Apple has the lead when it comes to music, all stemming from the iPod days.
Apple Music for Android Features
Apple Music on Android is pretty complete, and more features are coming soon, likely when they remove the "beta" tag and make it official.
For now Apple Music on Android comes with Beats 1, Connect, and custom music suggestions. Essentially everything one would want, with a few important additions left out. Beats 1 is Apple's live broadcast 24/7 radio streaming service. Offering hand-curated music, interviews, and radio shows all picked by the Apple Staff. It's something Apple users love, and now those on Android can enjoy it too.
Connect lets users "connect" with their favorite artists, in a way, as long as the musician feels like it. Letting users ask questions, see exclusive content, videos, photos and more right from their favorite artists.
Playlists are here as well, which was to be expected. Which allows users to create their favorite playlist for easy hands-free listening while at the gym, driving, and more. Playlists are nothing new, and we had a feeling this would make the cut.
Then of course "My Music" is included. Which is one place to find all your purchased and favorited music from an entire collection.
Missing Features
Apple states that availability and features will vary by country, and that some of the missing features will be added in the near future. Two of which, are huge aspects of Apple Music that need to be added to the music app, if Apple wants it to be successful. That said, there is still over 30 million song titles to choose from, which is a pretty big selection of music to surely fill the need of almost anyone.
For now music videos and the all-important family plans are missing. Which means Apple Music will only offer audio, and users will have to sign up on individual plans (after the free trial) rather than the all-in-one family plans that are used by those with iPhone's and iPad's.
Music Videos will be added at a later date, and most likely family plans will be added as well. There's no telling out long Apple plans to keep the app in beta, but once these two additions are added, they'll likely remove the beta tag and open Apple Music to all on Android.
How it Works
The app still relies on an Apple ID for sign ups, and existing subscribers will be able to use their account to sync any music that they've already set up. This means iTunes and a Mac are preferred, and according to the Google Play Store listing "Family membership sign-ups and upgrades require Mac or iOS". When family plans do arrive, you'll need a Mac to sign-up. It requires Android 4.3 or later, is optimized for phones, but should also work on tablets as well.
Apple has streamlined the interface to look like Android, rather than iOS, and it does have hints of Google's material design interface, but not a lot. They have the slide-out hamburger navigation bar at the top left, drop-down menus for genre's and such, as well as the important search magnifying glass on the top right. The sign-up process will also be "optimized for Android" whatever that means, at a later date.
There's no mention of support for devices like Google Chromecast, but it does feature the standard Android "share" button. More features could be coming later, after the main set transfers over from iOS.
Free Trial & Price
Just like on iOS, Apple is offering a free three-month trial period for new users on Android. Allowing users to sign-up and get three months for free, just like Google Play Music, before deciding if the service is worth keeping and paying a monthly fee for.
Individual plans are $9.99 a month, just like Google Music. For the price most pay for an album, you'll get access to over 30 million songs (and eventually music videos) each month. Their expert recommendations, wide variety and playlists are sure to attract some Google users to switch to Apple Music.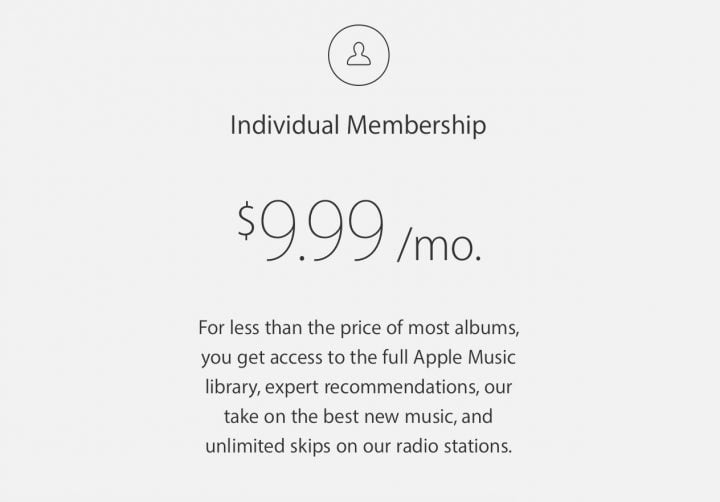 If users pay for the subscription inside of the Android app, Google gets it's traditional 30% of the in-app purchase just like all apps, so this is a win-win for both Apple and Google.
The of course are the Family Plans, which have been very popular on iOS. For just $14.99 a month families of up to six people can enjoy all that Apple Music has to offer, but that is missing from the Android release. Once the beta tag is removed, family plans will likely be added at the same $14.99 per month price. For now though, individual plans are the only option for those on Android.
Being Apple's first true Android app, there's a useful "feedback" button for users to make suggestion, voice complaints, and recommend changes for a better Android experience. Apple is set on making it a great experience for Android users, not just try to convince them to buy an iPhone. Give it a try today, and see if it's worth using over the many options readily available on Android.

This article may contain affiliate links. Click here for more details.