Apple Patent Gives Life to Wrap-Around iPhone Concepts
We've seen artists create conceptual sketches of potential future iPhone models with wrap-around displays and now we know that Apple has taken notice and has filed for a few patents that feature wrap-around iPhone screens. The patent filed by Apple reveals that the Cupertino, California iOS-maker is considering using premium materials that it currently leverages on current iPhone models, but at a larger scale. The patent shows that Apple is considering a sapphire glass display that surrounds a flexible display screen that's created with Liquidmetal.
Apple currently uses the high-end, highly scratch resistant sapphire glass on its iPhone 5s TouchID cover as well as the camera lens mechanism on the rear of the phone. Liquidmetal's durability and resistance to bends and breakage is currently employed by Apple on the iPhone's SIM ejector tool.
In the patent, Apple would be creating a hollowed sapphire glass enclosure. The shape would vary, and the patent describes that the potential iPhone could be made into a cylindrical structure, an elongated rectangular cube, or a triangular structure.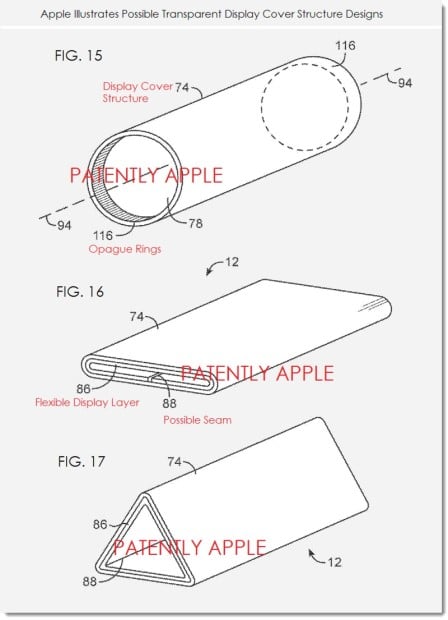 To create this sapphire structure, Apple would create sapphire crystals from the lab using alumina powder, something that Patently Apple speculates could be the use of Liquidmetal without referring to the compound by name.
"The shape of the seed crystal that is used in growing the sapphire structure may influence the shape of sapphire structure," the publication reported. "For example, if the seed crystal has an opening, the resulting sapphire structure that is grown may be hollow."
Given that the sapphire structure would be hollow, Apple could place a flexible OLED display, as well as other electronic components such as circuitry and a battery, inside the hollow glass structure. This would open the doors to new phone designs and potentially other wearable computing devices.
And with the new form factor, Apple will be exploring new ways for users to experience and interact with these new devices.
Some notable examples pulled from the patent could be the use of backside gestures to control the device without having to touch the front of the display, a rotating ticker that can scroll across the wrap-around display, and auto-scrolling content. Essentially, the new form factor, design, and UI could extend beyond a wrap-around iPhone and into wearable computing devices like the much rumored iWatch smartwatch.

As an Amazon Associate I earn from qualifying purchases.