Apple: Purple Tint on iPhone 5 Camera Pictures Normal
After the iPhone 5 was released, users noticed that under certain conditions, the device's camera shows an issue with a purple tint appearing on the resulting image. Whether this issue gets blown up as being the new 'camera gate,' akin to Apple's antennagate situation with the iPhone 4's antenna, is unclear, but at this time, Apple's official statement to consumers is that this issue is normal and is part of the behavior that is to be expected with the camera on the iPhone 5.
Apple's response to a customer inquiry was posted and reported on Gizmodo:
Dear Matt,

Our engineering team just gave me this information and we recommend that you angle the camera away from the bright light source when taking pictures. The purple flare in the image provided is considered normal behavior for iPhone 5's camera. If you wish to reach me regarding this case number *********, please contact me at 1-877-***-**** ext. *******. I currently work Thursday-Monday: 7:00am – 3:30pm Mountain Time. If you reach my voicemail, please leave your name, phone number, case number and the best time to reach you. Email is ***********@apple.com.

Sincerely,
Debby
AppleCare Support
Matt says that Apple told him that the behavior shouldn't happen initially when he reported the problem, but was told otherwise after his call got escalated.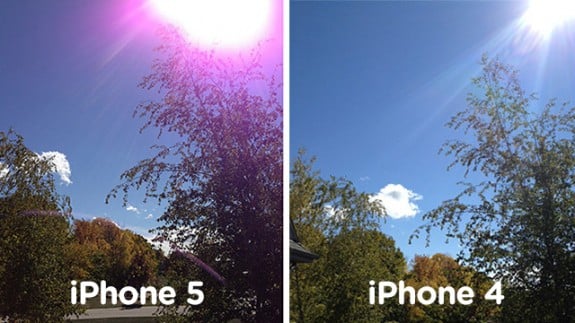 When Apple debuted the iPhone 5, the company talked about the innovations made with the camera. While the camera bears the same 8-megapixel resolution as the iPhone 4S, Apple says the company had to engineer the camera to fit all the components into a much slimmer package as the iPhone 5 is slimmer than the iPhone 4S. The company also replaced the standard lens cover of the iPhone 4S with one made out of sapphire crystal, a material that's traditionally reserved for expensive watches and luxury phones like Vertu handsets.
It's unclear if the purple haze may be the result of using a material like sapphire crystal, which may cause the purple flares inside the resulting images if the camera is aimed towards a bright object, like the sun or a lamp.
Apple acknowledges the issue with the purple flare right now, which is a good thing, but the manner in which the company is handling the complaints is similar to how late Apple CEO Steve Jobs had initially approached the antenna and reception issue with the iPhone 4. Like the antenna problem, the camera issue is all just a matter of 'how you hold your phone.'