Apple Testing iPhone 5 and iPod Touch with A5X CPU
New iPhone rumors point to the inclusion of the Apple A5X processor, capable of delivering better graphics and a new design with a 4-inch display.
Additionally, there are rumors that the iPod Touch will receive the Apple A5X processor, marking its first meaningful upgrade since 2010.
According to 9To5Mac, Apple is testing a new iPhone with a version of the A5X CPU that powers the new iPad. The chip is a dual-core CPU that's faster than the A5 in the iPhone 4S. The chip is capable of even better and faster graphics than those the A5 can produce.
Rumors of a Quad core A6 CPU in the new iPhone have surfaced, but Apple's tradition of introducing a new processor in the iPad before bringing it to the iPhone gives the A5X rumor more weight.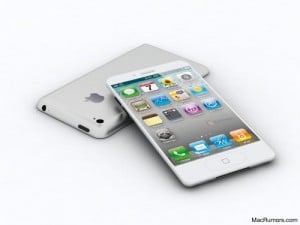 The next iPhone with the A5X chip would also hold 1GB of RAM, similar to the new iPad.
The design of the device, code-named N96, is not the same as the iPhone 4/4S design. That meshes with reports that we've heard since before the iPhone 4S debuted.
MacRumors also has rumors of a new design. Those rumors point to a larger, 4-inch device that we've heard so much about for the past year. The larger phone would have a unibody design with 4G LTE capability.
The design could go into mass production in June leading up to an August or September release.
Along with the iPhone rumors are rumors of a new iPod Touch. 9To5Mac says that Apple is testing the new iPod Touch under the iPod 5,1 label (the current iPod Touch is iPod 4,1). If true, the new iPod Touch model will be the first redesign of the device since 2010.
The new iPod Touch is also rumored to have an A5X CPU, or at least an A5 like the iPhone 4S. The new chipset would be a huge improvement over the current iPod Touch with its A4 CPU. The newer chip would allow for better gaming, which Apple uses to sell the iPod Touch.
There's no talk of a redesign for the iPod touch, but it would make sense for the device to keep the same screen size as the newest iPhone. No matter what the device looks like, we'll likely see it revealed alongside the iPhone 5, or shortly after.