Apple TV vs Android TV: What You Need to Know
Google announced and unveiled Android TV today at the company's annual Google I/O developers conference.
Essentially, Android TV is Google's replacement for Google TV, which eventually died out over the last couple of years. Android TV also looks to be a direct competitor to the Apple TV, Roku, and other set-top streaming boxes out on the market, although Google's Chromecast is also a competitor.
The user interface's layout is very similar to the Apple TV, but it has its own look and feel that Android is well known for. Android TV includes all of things that you'd normally find on a streaming box, including Netflix, Hulu, and other streaming services, but the main thing that sets Android TV on its own pedestal is the inclusion of Google's Voice Search.
Google Voice Search has been around for a while, but the company has now added the feature to Android TV as a way to directly compete against the Amazon Fire TV's own voice search technology.
Of course, Android TV also gives you access to other Google services, most notably Google Play TV & Movies, allowing you to play your purchased movies and TV shows right on the Android TV device and have it play on your living room television. This is very similar to the Apple TV's integration with iTunes.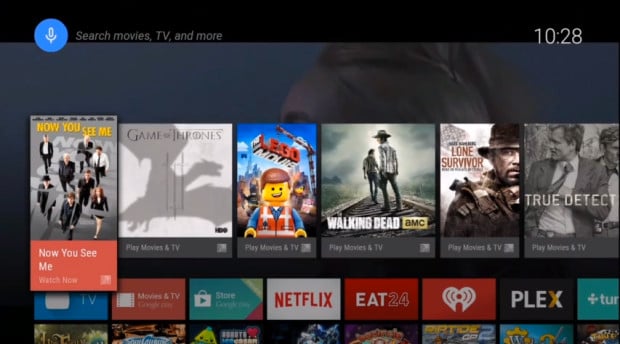 Android TV also comes with Google Cast, which lets you beam content from your smartphone or tablet straight to the Android TV and have it play on your television. Essentially, Android TV has a Chromecast built in, and it allows you to use your smartphone or tablet as a remote, although physical Android TV boxes will come with a remote of their own, if you prefer that instead.
The integration of Google Voice Search in Android TV is quite impressive, and the company did a little demo of it on stage at Google I/O. As an example that the company used, you can say "Breaking Bad" and instantly get a heap of information in front of you about the show, including a list of episodes, the cast, and other details. Voice Search is also pretty incredible on Android TV, in a way that allows you say something like "Oscar-nominated films from 2002" and you'll get a list of movies that were nominated for an Oscar that year.
Read: Android L Beta for Nexus 5 & Nexus 7 Announced
Essentially, the idea of Voice Search integration on the Android TV is a lot like Amazon's Fire TV, but it uses Google's powerful search capabilities to pretty blow the Fire TV out of the water.
Android TV also comes with gaming support, thanks to Google Play Games. This allows you to use a gamepad to play Android games on your television, and you can even play against another user who's playing on their smartphone or tablet, so we're seeing cross-device support with this, which is really cool.
The Apple TV doesn't have voice search or gaming support, which will soon become a huge downer as both features look to become more prevalent on set-top streaming boxes, but you can control the user interface with your iPhone or iPad using the Remote app, which is pretty handy.
Obviously, you can still access Netflix, Hulu, WatchESPN, etc. on the Apple TV, as well as purchase or rent movies right from the box, but Google has gone out of its way to make Android TV truly a part of its ecosystem, integrating nicely with the company's other products.
Of course, a new Apple TV is expected to be announced at some point this year with a ton of new features that could put the device back on top as far as features are concerned, but until then, Android TV looks to be a solid product for living rooms across the world.
Toward the end of the year, Android TV will be included on new televisions from Sony and Sharp, as well as set-top boxes from LG and an Android-powered game console from Razer.
Of course, we'll ultimately have to wait and try out Android TV for ourselves to see if it can, in fact, outdo the competition. After all, this is Google's third attempt at creating a TV product, and we suppose the third time is the charm, but we'll have to wait and find out.