Apple Watch Magnetic Charging Dock Review
Within several months of the Apple Watch releasing, tons of accessories made their way into the market, especially all kinds of charging docks. However, Apple recently released its own charging dock for its Apple Watch. Here are my thoughts about it so far.
Apple's Magnetic Charging Dock for the Apple Watch might of been late to the party when it released back in November — a whole six months after the Apple Watch was first launched, but as with anything that Apple releases, its new dock instantly moved up the charts as an Apple Watch charging dock to get.
The new dock is an interesting accessory from a design standpoint, as it doesn't particularly look like an Apple product. It doesn't have any sleek aluminum anywhere, but it does use Apple's iconic white finish all over.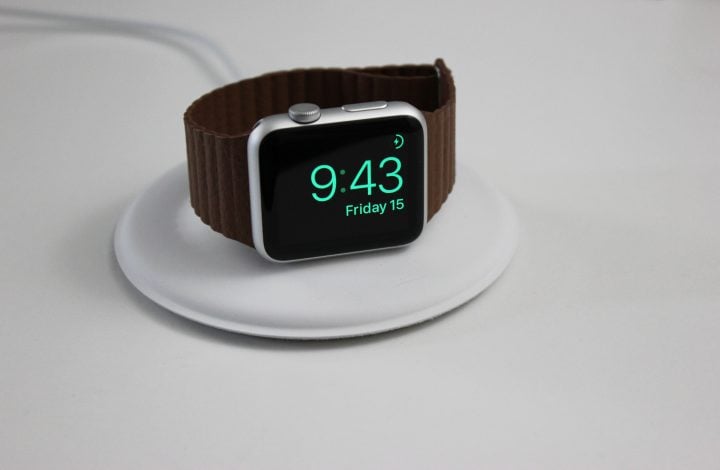 The dock is a bit smaller than a CD, covered in a felt-like material all the way around, except for the center where the magnetic charger is. You can lay your Apple Watch down on the dock to charge it, which centers the Apple Watch case on the dock, providing a pleasing and elegant look.
Furthermore, the magnetic charger can open up to a 90-degree angle and be perpendicular to the dock, similar to opening a floor hatch door. This makes it so that you can charge your Apple Watch and have it propped up in order to enable Nightstand Mode, which dimly shows the time on the watch as its charging, acting as a bedside clock of sorts.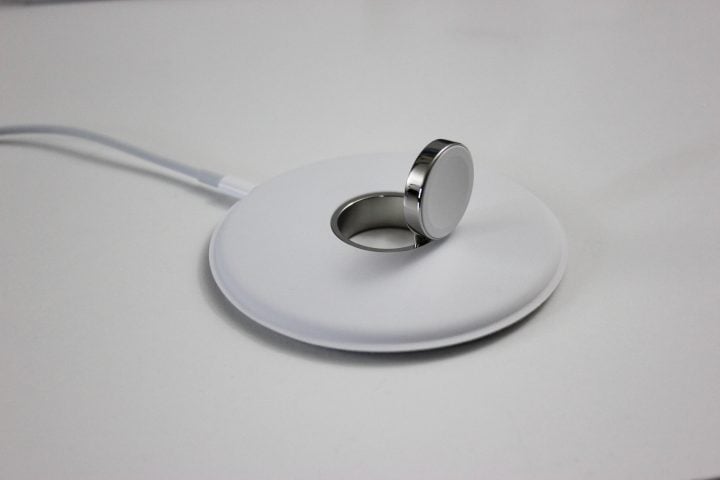 The charging dock comes with a 2-meter Lightning cable that plugs directly into the dock. This means that unlike most Apple Watch docks, the magnetic charger portion is built into the dock and you simply need to plug in any Lightning cable into the Lightning connector on the side of the dock.
I think that's a huge feature of this dock, and it makes it rather portable in a way, so if you're going on vacation, you could leave your Apple Watch charging cable at home and instead just pack the dock, which can connect to your iPhone's Lightning cable and wall adapter that you're already taking with you.
Unfortunately, the dock doesn't come with a power adapter, so you'll have to use the one that came with your Apple Watch, or you can also use the one that came with your iPhone, since it's the same charger.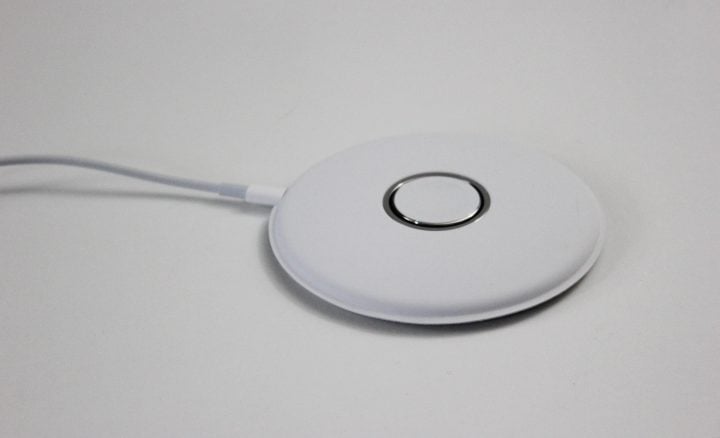 One thing that I wish the dock was capable of doing is being able to spin around the magnetic charging piece after you flip it up so that you can point it in any direction without having to spin the entire dock, which would allow you to have the watchface point in your direction while keeping the dock and the Lightning cable in the same position.
However, it remains static, and I'm guessing that kind of capability would bump up the price a bit. The dock is already pretty expensive at $80, and most people I asked said that they wouldn't buy it at that price.
Then again, it can make for a great accessory to put on your Christmas list, as it's still a really great product that's worth using, but the price is something that can be a bit of a step back.
I think that most users should look in another direction if they're wanting to buy an Apple Watch dock, as you  can get some pretty good ones for less than $30. Apple's own dock is really nice and all, but probably not worth spending $80 on.
Best Apple Watch Accessories
Magnetic Charging Dock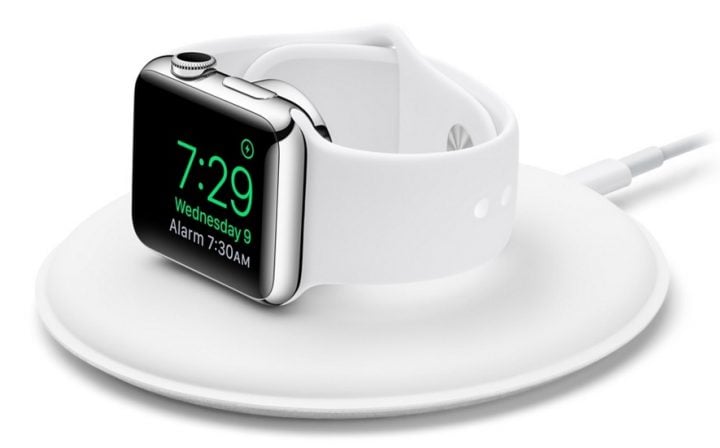 Apple's latest accessory is its own charging dock for the Apple Watch. There are a ton of third-party Apple Watch docks to choose from (there are even a couple we mention here), but if you want an Apple Watch dock straight from the horse's mouth, Apple's own Magnetic Charging Dock is the one to get.
The dock consists a simple design that has the magnetic charger in the center, which can be titled up to use your Apple Watch in Nightstand Mode while it's charging.
The dock comes with a 2-meter Lightning cable to plug in the dock, but you'll need to provide your own wall adapter if you plan on plugging it into an outlet. At $79, it's not a cheap purchase, but it could be the right Apple Watch dock for you.

This article may contain affiliate links. Click here for more details.