Apple Website Confirms iPhone 5 Name, 4G LTE & New iPods
Hours before Tim Cook will take the stage in San Francisco Apple's website has already confirmed the name of the iPhone 5.
According to 9To5Mac the search engine on Apple's website links to the iPhone 5 when users search for "iPhone-5." The links include a tips page, the press release, and RF exposure information.
None of the links work yet, but we know they exist, and now we're sure the new iPhone is, in fact, called the iPhone 5.
The search engine also confirms the new iPhone 5 will have 4G LTE. A search for "iPhone-LTE" links to a dead page for LTE on the iPhone.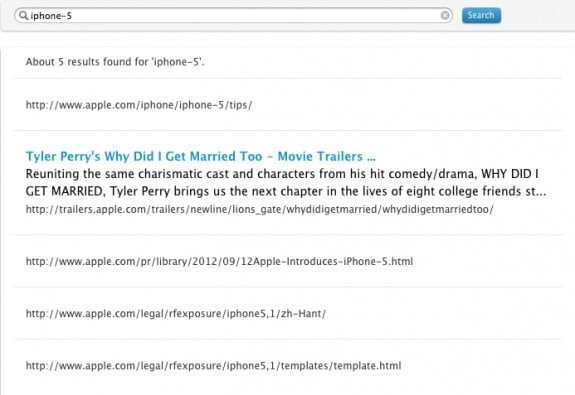 The search engine also turns up results for the new iPod touch and iPod nano. The search engine shows a lot of results for "new-ipod-touch," but at the bottom of the first page it links to a press release dated today for the new iPod touch and iPod nano.
Apple put both new devices in the same press release, but the title doesn't mention the iPod shuffle, which we heard will likely receive a refresh today as well.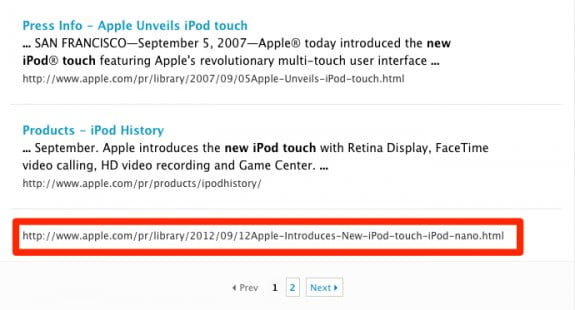 9To5Mac also points out that a search for "new-iTunes" also results in a link to a press release about what we assume is iTunes 11.
The sites linked in the search engine will likely live in a few hours either during the event, or shortly after it ends. Either way, we'll have to wait until the event kicks off to get detailed information on the devices. Apple typically doesn't release press releases until after it made the announcement so it doesn't steal its own thunder.
The iPhone 5 will likely have a 4-inch screen with a resolution of 640×1136, 4G LTE, a slightly larger battery, and a smaller dock connector. The new iPod touch will likely have similar specs to the iPhone 5, and rumors say the iPod nano will have a completely new design with a longer screen and a physical home button.
Catch up on all of our iPhone 5 coverage.

As an Amazon Associate I earn from qualifying purchases.