Apple's Budget iPhone to Be Called iPhone 5C According to Leaked Packaging
The budget iPhone that's to debut alongside the flagship iPhone 5S this fall may be called the iPhone 5C according to leaked images depicting the device's packaging. There are speculations that the "C" in iPhone 5C may suggest that the device may represent color as the low-cost iPhone is said to come with various color options for the rear unibody polycarbonate back.
READ: Why You Should Consider the Low-Cost iPhone, Even If You're In the Market for an iPhone 5S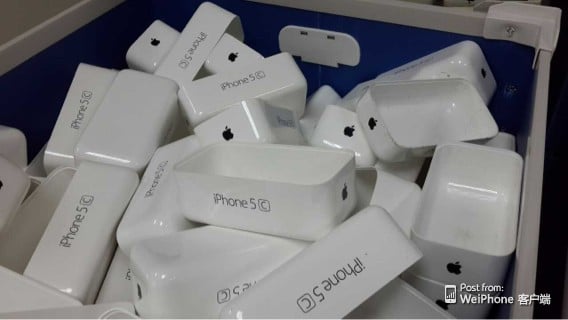 Images of the packaging box were posted to Chinese site Weibo and later was republished on Apple Insider, showing a white plastic box that's consistent with what Apple has been doing for its iPod, including the iPod Touch, line. The white plastic box has the iPhone 5C name depicted on the side. Materials for the iPhone 5C, including cables and chargers, would go inside the plastic box, and the iPhone 5C would rest on top of all that followed by a transparent lid revealing the device when it's fully enclosed and boxed up.
The packaging is different from the cardboard box experience that Apple uses on its flagship iPhone line to date.
Right now, though, it's unclear if the leaked packaging and even the iPhone 5C name are legitimate leaks or if they're fakes. Apple is expected to announce its new iPhone lineup this fall, so we'll likely be hearing more leaks in the coming months.
At this point, it's unclear how much Apple intends to price the low-cost model for, but the iPhone 5C may be an important product for Apple in emerging markets where constituents may have little disposable income. Apple is facing increased competition in the low-cost space with a wide selection of budget Android handsets as well as the recently released Nokia Lumia 520 (AT&T in the U.S. and unlocked globally) and Lumia 521 (T-Mobile US) models running Windows Phone 8. The Nokia smartphones cost around $100-$150 unlocked and without a contract, yet despite its budget nature still offers a fluid user experience.

As an Amazon Associate I earn from qualifying purchases.