Apple's iPad Stylus Could be the Smartest Yet
While there are many styli to choose from for your iPad, Apple is rumored to be making its own, and it could be the smartest stylus on the block.
According to recent Apple patents published by the USPTO, Apple has patented a stylus that has some pretty smart guts. Specifically, the stylus would be able to recognize touch gestures, and would also come with numerous smart sensors in order to be able to perform "hover" gestures, similar to that of many Samsung devices. This would allow you to hover the stylus above the display in order to perform certain tasks without tapping on the screen with the stylus.
The late Steve Jobs has mentioned in the past that styli for touch screens is a bad idea, but Apple has toyed with the idea for a while now, including back in the 90s with its Newton tablet. Plus, styli would be great for educational and professional use with the iPad, as taking notes with a pen could be intriguing for many users, rather than having to rely on the keyboard.
These patents go along nicely with a report from last month, when KGI Securities analyst Ming-Chi Kuo said that Apple could introduce a stylus add-on with the iPad Pro, as users could benefit from it with the larger 12-inch display.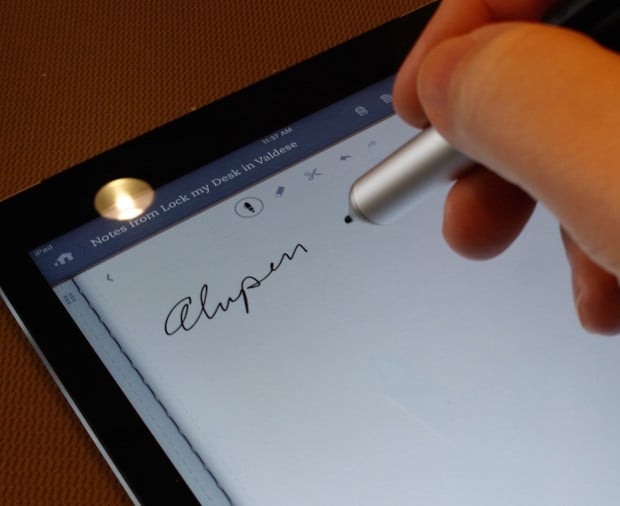 Kuo says that "given that it's more precise than a person's fingers, a stylus can be more convenient to use than the combination of keyboard and mouse in some cases. Therefore, we believe Apple's stylus will improve the user experience of 12.9-inch iPad."
Apple has patented several different stylus designs a few years ago, so while Steve Jobs isn't too fond of the digital pen of sorts, the company as a whole has at least explored the idea in the past.
Kuo says the iPad Pro stylus could most likely be an optional accessory that users can buy separately, rather than including it with the iPad Pro right out of the box, mostly because including a stylus would likely make the iPad Pro more expensive, especially if the stylus is a rather technically-advanced piece of machinery.
Kuo also thinks that the stylus would charge using the Lightning connector, and would not include an accelerometer or a gyroscope, but he notes that future versions of the stylus could be more advanced and include that kind of technology.
As for when we could see the stylus launch, it's said it will release at some point during the second or third quarter this year, but it's not known if that will be before the iPad Pro launch or after. It could likely be before, since the stylus will most likely work for other iPads as well.
The iPad Pro is one device that many people have been looking forward to, but Apple has yet to make it official. Rumors have been floating around for quite a while, but we've heard a few rumors just recently, suggesting that the tablet is somewhat close to an official launch.
Past rumors have suggested that the iPad Pro will come with a 12.9-inch display and will measure in at around 7mm, which is crazy thin for a tablet of that size.
Furthermore, the new tablet is rumored to come with stereo speakers, thanks to the addition of two more speakers at the top of the device rather than just at the bottom, allowing for better sound quality.
If the iPad Pro does indeed see the light of day, it will most likely be aimed at professionals, such as photographers, designers, architects, etc. Of course, the iPad is already a useful device in these professions, but a version with a larger screen and faster internals could be an even better device for such users.

As an Amazon Associate I earn from qualifying purchases.