ARCHOS drops five Android tablets on an unsuspecting public
Okay, we weren't really that unsuspecting, but it's still impressive that ARCHOS is beefing up their line of media tablets with five new models running Android, including a model with 2.8″ display starting under $100.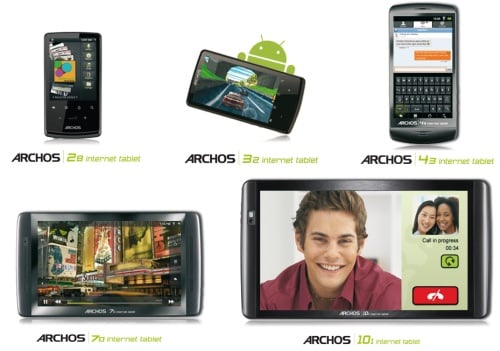 Using a naming system based on screen size, ARCHOS announced the ARCHOS 28, 32, 43, 70, and 101 Internet tablets, sporting display diagonals of 2.8″, 3.2″, etc. The smallest is billed as the "First Android MP3/MP4 Player Promoted Below $100." It features 4GB of storage and retails for $99.99. The 32 and 43 both feature built-in photo/video cameras and 8GB storage, priced at $149.99 and $199.99, respectively. These three seem aimed directly at the iPod touch, which is expected to be refreshed with a new model at tomorrow's Apple event, with very competitive pricing.
The larger 70 will be available with either an 8GB SSD for $274.99 or 250GB HDD for $349.99. The 101, which they claim offers the largest screen of any Android device, will strangely be offered with only 8GB or 16GB SSD options for $299.99 and $349.99, respectively.
All will use Android 2.2 as the OS with Wi-Fi for Internet access. Apps will be available through the ARCHOS AppsLib store. The top three feature HDMI-out (32 offers composite video-out; 28 none) and microSD slots (except the HDD version of the 70). All are online at the ARCHOS web site now and Joanna Stern has hands-on video at Engadget.