Archos Tries Its Hand at Cooking With Chef-Centric Android Tablet
Archos is trying its hand at cooking by creating an Android tablet aimed directly at chefs. Dubbed the ChefPad, the tablet is entirely centered around your cooking experience. Archos will offer a Chef Apps feature to filter Google Play apps for cooking-related or cooking-inspired programs for your tablet so you won't be bombarded with non-cooking apps. Though the filter will be present, Archos will be shipping this tablet as a native Android device without any skins.
The $210 tablet is splash-proof to handle kitchen duties and will feature a 9.7-inch display with a 1024 X 768-pixel resolution. The tablet has a bumper in case you drop it, and an adjustable stand so you can prop it up on your kitchen counter to glance at recipes or watch cooking videos.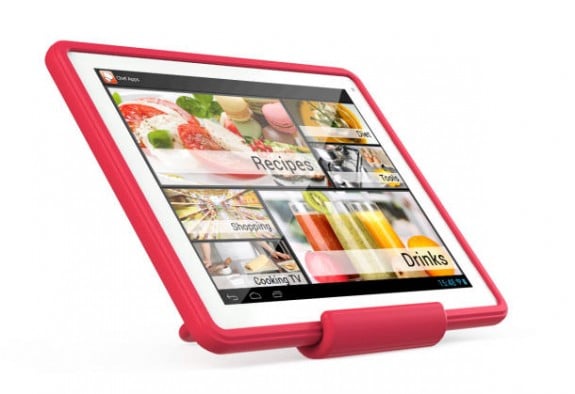 The tablet itself will feature a dual-core 1.6 GHz processor, Android 4.1, and front- and rear-facing cameras on board. Chefs can use the cameras presumably to document their kitchen creations. The slate will have WiFi, 8 GB storage, micro SD expansion card slot, and mini-HDMI output port.
It's unclear how the Chef Apps will filter content on Google's Play Store. The Play Store already breaks down apps by categories and users can already go to specific categories to find the apps they need or want, whether that's an educational app, an entertainment app, or a game.
According to Archos, this will be the first of many themed tablets to come in the future. In the past, various manufacturers had made specialized tablets aimed at children and the educational market, but this is the first time that a tablet has been created specifically for the kitchen.