Are These The First Images of Nikon's Android-Powered Smart Camera?
We've heard rumors before that camera-maker Nikon is planning on releasing a consumer camera that is powered by Google's Android OS and now we are beginning to see pictures of Nikon's first smart camera. Rumored for an announcement this year at the Photokina imaging show, the Nikon Coolpix S800C shows a fairly compact body with a large touchscreen on the rear. Also, there will be three Android hardware navigation buttons–and these buttons are physical, mechanical buttons rather than the capacitive touch variety. The camera will have optical zoom.
According to Nikon Rumors, the Nikon S800C is expected to be announced "on or around August 22nd, 2012."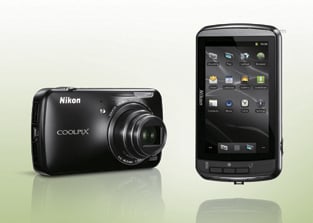 Having a smart camera in addition to, or in lieu of, a smartphone will definitely help users capture better images. For one, the 12X optical zoom will allow users to capture shots from further away without any loss in quality. Second, having a Xenon or brighter flash bulb on a camera, rather than today's smartphones with built-in cameras, will allow users to capture more vibrant images at night without having to worry about their images being washed out or underexposed due to a lack of LED flash.
Perhaps, the closest thing that we have to Nikon's smart camera on the market today is Nokia's 808 PureView, which sports a large 41-megapixel image sensor. The sensor allows users to either zoom in digitally or crop photos down to a 5- or 8-megapixel size without any loss to resolution thanks to the extra pixels. That camera also has a bright Xenon flash as well.
The benefit of packing a smartphone OS onto a traditional point-and-shoot is the fact that users can easily add filters through software and use any number of photo or video editing application.

As an Amazon Associate I earn from qualifying purchases.