Arlo Ultra Takes Home Security to 4K With New Camera
The new Alro 4K HDR wire-free camera is now available, allowing you to place a security camera almost anywhere and get better resolution footage.
Along with the upgraded specs, the new Arlo Ultra includes a one year subscription to Arlo Smart Premier along with the hardware. The one camera system retails for $399 and is available for pre-order at Best Buy today.
With a 4K sensor and HDR support you get better looking video, and you can now zoom in without losing as much detail as on other security cameras. This is one of the biggest benefits of upgrading to a 4K security camera.
You get a 180 degree field of view and the system includes a spotlight that you can use to light up the night, allowing you to view in color instead of just night vision.
This new model also includes dual microphones for better audio fidelity that you can use when you talk to someone through the Arlo Ultra. There is also a built-in siren that you can sound if you need to warn someone off or call attention to the area.
4K UHD image resolution
180-degree viewing angle
Auto zoom and tracking
Custom activity zones
Dual microphones for crystal clear two-way dialogue
Integrated siren and spotlight
Color night vision
Magnetic mount for more flexible mounting solutions
New weatherproof magnetic charging cable
All-new SmartHub BaseStation
A free 1-year subscription of Arlo Smart included with purchase
"Arlo Ultra pushes the boundaries of image and audio quality with an incredibly compact form factor that's true to Arlo's heritage of simple setup and ease-of-use, marking a massive leap forward in surveillance for the do-it-yourself smart home security market," said Pat Collins, senior vice president of Arlo products. "Our new flagship wire-free camera represents major advancements in video, audio, software, AI, and computer vision capabilities. Arlo Ultra is a complete solution for users who desire the best possible protection for their home or business, as well as the most ideal experience for connecting remotely with loved ones for maximum peace of mind."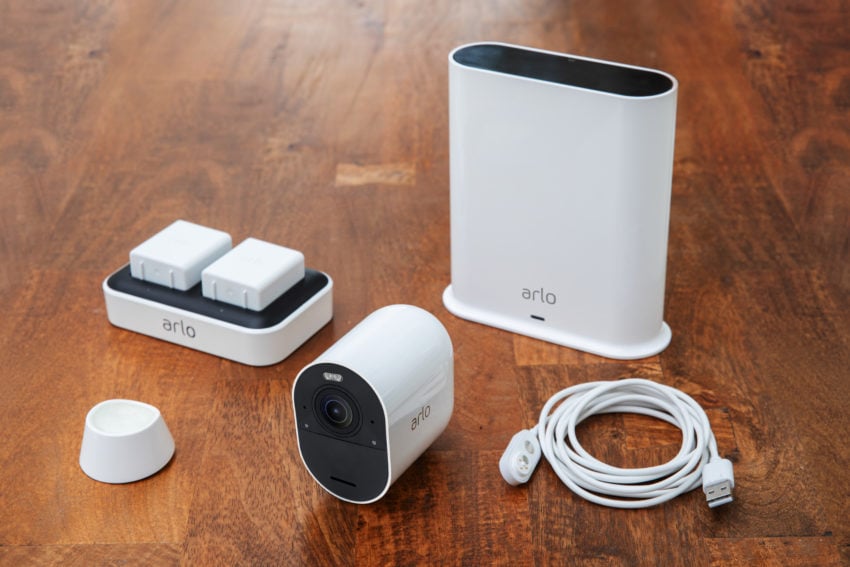 You can install the Arlo Ultra indoors or outdoors thanks to the wire free, weather resistant design and not being constrained by plugging into power.
With the package you get the Arlo SmartHub that connects to your router and expands your WiFi range for more areas you can place the camera. You can also connect a microSD card for local storage.
Smart Premier is included for one year, a $119.88 value. This includes access to AI vision tech that allows you to get notifications based on people, animals, vehicles and even package detection. With the included subscription you get 1080P cloud recording and local 4K recording. If you want 4K cloud recording it is an extra fee.
12 Best Smart Home Gadgets for 2019
Lenovo Smart Display with Google Assistant
The Lenovo Smart Display with Google Assistant is an awesome new way to use the Google Assistant in your home -- and with a screen.
Essentially the Lenovo Smart Display is a vastly better version of Amazon Echo that looks like it should be in your home and with loads of features that Alexa doesn't deliver.
The Smart Display is a Google Home with a screen, that comes in 8-inch and 10-inch sizes. In addition to standard Google Assistant controls, you can also interact with touch, and you can see your results on the screen. This works great with YouTube and other video results, recipes, directions and other activities.
The Lenovo Smart Display with Google Assistant built in is $199 for the 8-inch model and $249 for the 10-inch model with Bamboo back. The Smart Display arrives in early Summer 2018.

As an Amazon Associate I earn from qualifying purchases.