Aston Martin Luxury Phone is a Glorified Samsung Nexus S
As with many premium brands before it, Aston Martin is now in the mobile business with a rebranded Samsung Nexus S. If you think that Aston Martin merely slapped its logo on the vanilla Google handset, think again as the company had partnered with luxury phone-maker Mobiado with the Grand Touch Aston Martin phone. Essentially, you'll have the same curved contour glass display on the Nexus S along with all of the phone's innards. On the outside, however, Mobiado and Aston Martin did away with Sasmung's plastics and went for an all premium feel and quality.
The Grand Touch Aston Martin has a unibody precision machined–like Apple's MacBook Pro laptops–build with either aircraft aluminum or brass with rose or yellow gold depending on the version users select. Ebony wood or mother of pearl is also inserted on the phone and we have sapphire crystal–rather than the pedestrian Gorilla Glass–and also stainless steel as materials used on the device. According to Mobiado, the battery cover is made entirely from one piece of sapphire crystal.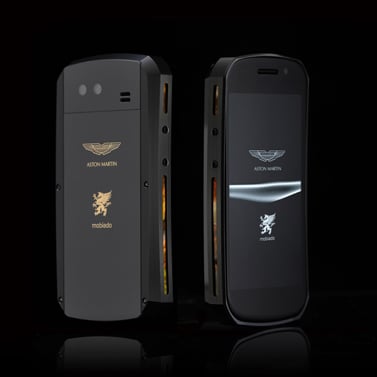 As metal bodies usually degrade wireless signals, it's unclear how reception on the Grand Touch Aston Martin compares to your more pedestrian Samsung Nexus S.
As far as specs, you get everything that the Nexus S has, including a single-core 1 GHz CPU, 512 MB RAM, 16 GB storage, and a 4-inch WVGA resolution display. The phone runs on Android Gingerbread. There's no word if Mobiado created a custom UI for the Aston Martin handset. The price of the handset was not revealed.
The Grand Touch Aston Martin is basically a re-branded Grand Touch by Mobiado but with Aston Martin's emblem imprinted on the back.
Via: Unwired View