Asus Announces Transformer Prime, But Is It Priced Too High?
After having made a brief cameo in Asia, the Transformer Prime is now officially announced by Asus. The slate will come with an updated quad-core Tegra 3 chipset and a higher entry price point of $500, up by $100 from the original Transformer, and is due in December for shipment, contrary to earlier rumors that Asus may be holding off the release until 2012 for Ice Cream Sandwich.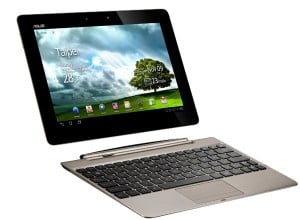 The Transformer Prime will cost $500 for 32 GB of storage and $600 for the 64 GB model, though both units will feature a micro SDHC card slot for further expansion. The innovative laptop dock ($150) will also have a full size USB port–for a USB memory drive–and a full SD card slot as well for those opting for the optional accessory that transforms Asus's slate into a notebook form factor. 1 GB of RAM will power the slate, though Asus's press release neglected to mention if the Transformer Prime will be shipping with Android Honeycomb or Ice Cream Sandwich out of the box. Whatever the case may be, the Transformer Prime is destined for Ice Cream Sandwich so if it does launch with Honeycomb, expect an upgrade to Android 4.0 in the near future.
Interesting enough, despite the large 10.1-inch display, which limits the slate's utility as a standalone camera replacement, Asus spent a bit of time to make the camera a highlighted feature of the slate, which can display images and videos on the HD 1280 X 800-pixel display. The Transformer Prime will feature a 1.2-megapixel front-facing camera with an 8-megapixel rear camera with auto-focus and LED flash. Here is what Asus has to say about the camera:
A 1.2MP front camera allows for instant photos or high-quality video conferencing with friends, family or coworkers while an 8MP rear camera with auto-focus and LED flash takes brilliant photos or video thanks to a large F2.4 aperture, back illuminated CMOS sensor, touch-to-focus depth of field and low-light noise reduction to provide the clearest and sharpest photos or even 1080P HD videos.
The device will feature an amazing 12 hours of battery life with a quad-core Tegra 3 CPU and 12-core GeForce graphics engine. The back cover–or lid in laptop mode with optional laptop dock accessory–will feature a 'stylish metallic swirl design.' The tablet will also feature ASUS SonicMaster audio technology, which is not quite the Bang & Olufsen audio technology that's highlighted on the flagship ultrabook Zenbook.
The device features a sleep design, IPS display, 8.3-mm thin frame, and mini HDMI port. The re-designed Transformer Prime makes yesterday's Transformer look downright chunky. Though quad-core of computing and Ice Cream Sandwich sound nice, it's unclear if the higher entry price point will make this tablet as popular as the original's, which had undercut the iPad by $100. Though you do get more storage with the Transformer Prime's $500 price, Asus's starting price is now on par with Apple's.

As an Amazon Associate I earn from qualifying purchases.