Asus Unveils Two New Transformer Pad Tablets
Asus has been busy at this year's Mobile World Congress first introducing its long-awaited phone and tablet hybrid, the PadFone, and then announcing two new tablets in the Asus Transformer Pad Infinity Series and the Transformer Pad 300 Series. Both tablets have powerful processors, 4G LTE, and Google's Android 4.0 Ice Cream Sandwich right out of the box.
It also appears that Asus has re branded its tablet line. While the Android tablets it released last year were called "Eee Pad Transformer", these tablets employ the name "Transformer Pad," a simpler, and much more marketable name.
Both tablets offer some features that consumers should be excited about.
Starting with the Transformer Pad Infinity, it's going to feature a Full HD Super IPS+ display which means it's going to rock 1920 x 1200 resolution. The display also employs Corning's Gorilla Glass 2 to help protect the fantastic display from damage. You can see in action in the video below:
It's also going to come with a Qualcomm MSM 8960 Snapdragon S4 dual-core 1.5Ghz processor, a slim 8.5mm design, a 2MP front camera for video chat, and an 8MP rear camera with a large F2.2 aperture, 5-element lens and LED flash.
It also has 4G LTE support and Android 4.0 on board.
There is also a Wi-Fi version of the Transformer Pad Infinity that will come with a quad-core Tegra 3 processor.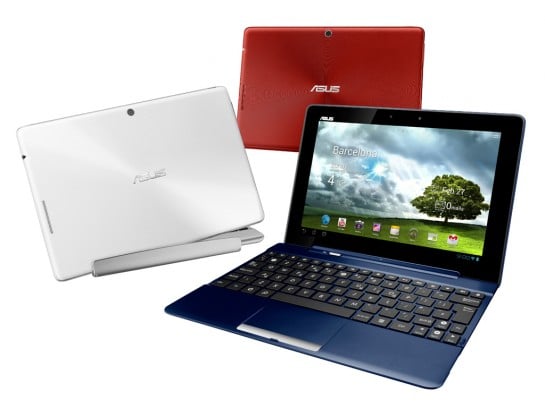 As for the Asus Transformer Pad 300, it will also have 4G LTE support but unlike the Transformer Pad Infinity, it will come with a Tegra 3 quad-core processor making it the first 4G LTE tablet with a quad-core processor.
It will also come with a 10.1" Super IPS display with 1280 x 800 resolution, an 8MP rear camera, a 1.2MP front-facing camera, 1GB RAM, a 9.9mm design, up to 10 hours of battery life, and Android 4.0 Ice Cream Sandwich.
The Transformer Pad 300 will also come in three different colors: blue, white and red.
Those interested will want to know that the Transformer Pad Infinity will arrive sometime in the second quarter of this year while the Transformer Pad 300 will be arriving at an undetermined date later on this year.
These two tablets appear to trump the recently released Eee Pad Transformer Prime which was the first tablet to hit the market with a quad-core processor. However, it appears now that that was a tablet aimed at early adopters.
That being said, we hope that Asus was able to work out the GPS issues and other bugs that plagued the Transformer Prime in order to make a better experience on these two upcoming tablets.