ASUS Eee Pad Transformer Already Sold Out in U.S.
Today is launch day for the ASUS Eee Pad Transformer here in the United States and unfortunately, within several hours, this thing is now proving impossible to find as it has sold out at several major retailers including Amazon, Best Buy, Target and Newegg.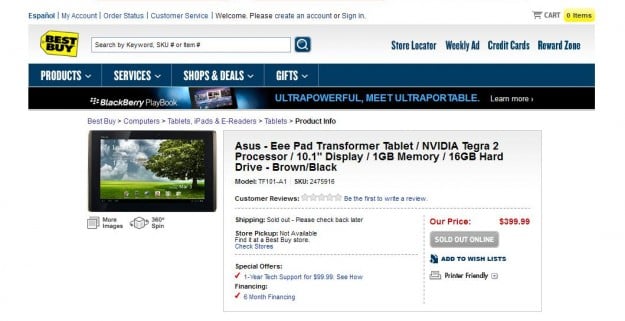 For those unfamiliar with the ASUS Eee Pad Transformer, it's an extremely affordable Android 3.0 Honeycomb tablet that comes with an assortment of features that make its $400 price tag very attractive.
What features you ask? Oh, just a 10.1″ WXGA IPS touch-screen display, 1GB LPDDR2 memory, a 16GB EMMC hard drive, NVIDIA Tegra 2 graphics, built-in 1.2MP webcam with microphone, and Wi-Fi capabilities, along with Android 3.0 of course.
It also capable of Windows 7 remote desktop connectivity as well which allows you to control your PC with the Eee Pad Transformer.
Amazon was said to be sold out in minutes and it looks like other retailers have followed suit meaning ASUS probably has a shortage of iPad 2 proportions on its hands. Or worse. We'll keep an eye out for availability but right now, it appears to be out of stock virtually everywhere.
Were any of you able to get one?
(Via ASUS Where To Buy)

As an Amazon Associate I earn from qualifying purchases.