Asus Eee Pad Transformer Prime Landing Page Arrives
Late last night, at the AsiaD Conference in Hong Kong, Asus head honcho Jonney Shih unveiled the company's upcoming Android 4.0 Ice Cream Sandwich tablet, a device Shih called the Transformer Prime. Prior to last nights events, the device had simply been known as the Eee Pad Transformer 2. And while the device has yet to be officially announced, there will be a more formal announcement in November, Asus has been kind of enough to launch a landing page for its upcoming tablet.
If you head here, you'll find a website that Asus has set up for those curious about the first tablet to feature the Tegra 3 quad-core processor from NVIDIA. It doesn't reveal much else but we're fairly certain that more information will be added here over time.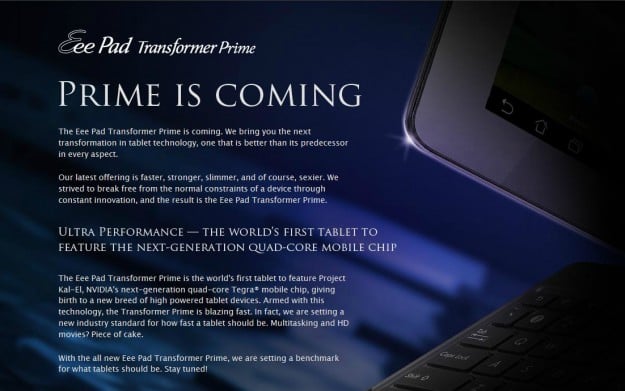 Those that are hungry for more details will have to wait until November 9th which is when Shih and company will announce the Transformer Prime for real.
Until then, here are a couple of specifications to marvel at.
Of course, you've heard about the Tegra 3 quad-core chip. But there are also some other interesting things on board as well. It will have a 10-inch capacitive touchscreen, a 8.33 mm thin design, and laptop dock compatibility.
All in all, it looks like a beautiful device and Asus expects it to launch at some point towards the end of the year.