Asus Fonepad Is a 7-inch Tablet That's Also a Phone for $249
At Mobile World Congress in Barcelona, Asus announced the Fonepad, a 7-inch Android tablet that can also function as a phone.
The Fonepad is one of the first Android devices to use the new 1.2GHz Intel Atom Z2420 processor, the same processor in the Lenovo K900 smartphone. The Fonepad is also one of the largest devices with phone capabilities; the screen is just one inch smaller than the Samsung Galaxy Note 8.0.
The 7-ich screen of the Fonepad has a resolution of 1280×800, the same as the Nexus 7. The Fonepad uses Android 4.1 Jelly Bean with Asus' skin laid over it, and runs tablet apps instead of phone apps. Without the phone functionality, the Fonepad would compete directly with the Nexus 7, instead of competing with phablets such as the Galaxy Note 2.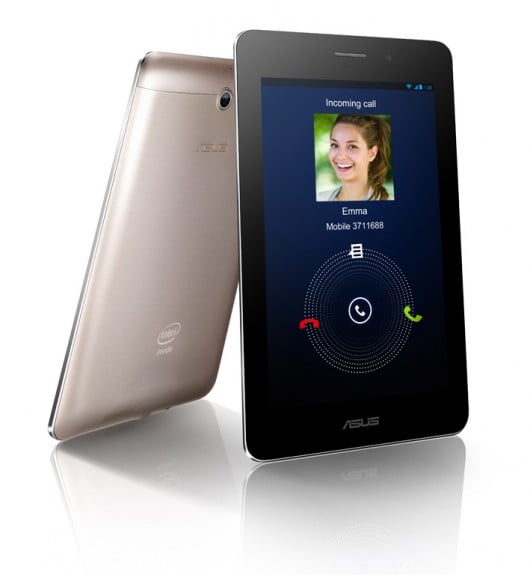 The Asus Fonepad also looks a lot like Asus's Nexus 7 tablet. The front of the device looks almost identical, except it has an Asus logo and a speaker grille for the earpiece.
The back of the device has a metallic finish that comes in either gray or gold instead of the matter black plastic of the Nexus 7. It also has a 3MP rear-facing camera on the back, which the Nexus 7 lacks.
The front of the Fone Pad has a 1.2MP camera for video chat. Inside, the tablet has 16GB of storage space, a micro SD card slot, 1GB of RAM and an HSPA+ radio. There is no 4G LTE radio available in the Fonepad, at least not in the model that Asus announced.
It's not clear if Asus intends to sell the Fonepad in the U.S., but it does have a U.S. price of $249, which is the same as the 32GB Nexus 7 without HSPA+. That price is for the unlocked model, so users can choose to buy it and not bring it to a carrier.
There is no announced release date for the Asus Fonepad.

As an Amazon Associate I earn from qualifying purchases.