Asus' MWC Teaser Suggests Transforming Padfone Announcement?
Asus has released a teaser video on YouTube with little information about what the company may be announcing at Mobile World Congress in Barcelona at the end of the month. The video depicts a series of Russian Matryoshka nesting dolls with the phrase 'Divided we stand. Together we rock.' The tags for the YouTube video highlights everything from smartphone to tablet to ultra book, though there's a good indication that the teaser video may be in reference to the much rumored Padfone, which had been previously demoed and announced in prototype form.
https://youtu.be/Lz9tHiQS2uk
Asus, no stranger to converting hybrid form factors with the debut of the Eee Pad Transformer, had also recently teased the Padfone in a media invite, revealing a tablet and phone without buttons. The button-less design may be the effect of Android 4.0 Ice Cream Sandwich as early prototypes of the devices shown a year ago retained buttons.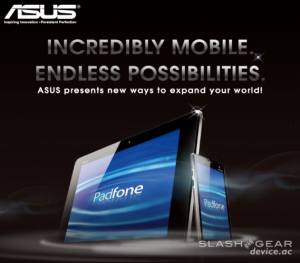 Padfone, which is similar to Motorola's Android phones with Webtop OS and Lapdock, allows a smartphone, running Ice Cream Sandwich for example, to dock into the rear of the tablet. The larger tablet's display would serve to project Android apps to a larger screen to make give users greater utility. On the go, a user can use the phone's smaller display, but when it comes to sharing or needing a larger display to manipulate apps like a spreadsheet app, users can dock the phone into tablet mode where the phone would provide all the processing power and the tablet will provide the display and a battery to keep your system running.
As Ice Cream Sandwich is the first version of the Android operating system to merge tablet and smartphone experiences into one, potentially select apps can scale and go into tablet mode once docked. Asus would most likely need to work with developers to ensure a smooth and seamless tablet to smartphone experience so that apps provide more functionality, like a tablet user experience while in tablet mode, rather than merely just scaling up to fill the larger screen.
The Padfone is anticipated to be released early this year.
A potential further expansion of this concept, perhaps for the future, that I'd like to see is a Padfone with a keyboard dock so that users can have the option of smartphone, tablet, or even ultra-light netbook if they so choose. One device as the brains could kill all three form factors and users can just maintain one wireless data plan–no need for even family shared data plans!
(Image courtesy of SlashGear)

This article may contain affiliate links. Click here for more details.