Asus Padfone – Phone + Tablet Combo Launching in April
Asus first announced the Padfone way back in May 2011. At that point the smartphone and tablet combination seemed like nothing more than a prototype. In October Asus reiterated that it planned to bring the Padfone to market with Ice Cream Sandwich. Now Asus has announce the device along with a few new accessories and the finalized specs.
In case you've forgotten, the Asus Padfone is an Android smartphone that docks into a tablet (the Padfone Station). The tablet won't work without the phone inserted, but it does give the phone 5 times it's original battery power.
At Mobile World Congress Asus announced that the Padfone Station will also be able to dock into a keyboard just like the Eee Pad Transformer Prime. The keyboard dock essentially turns the phone into an ultraportable laptop and provides 9 times the original phone's battery.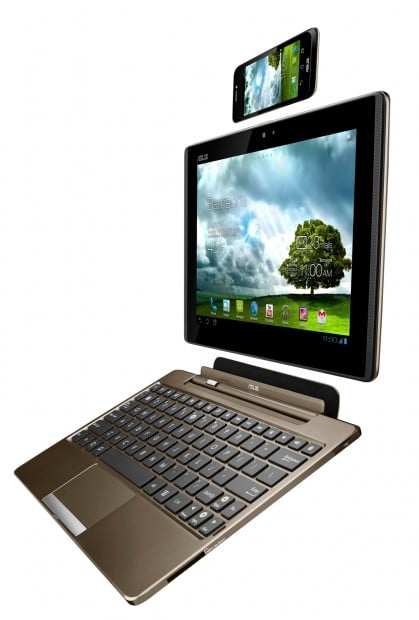 The Padfone will also ship with the Padfone Stylus Headset Stylus, which can act as a capacitive stylus for the Padfone and Padfone Station as well as a headset for calls.
While the docking features are nice, the Padfone also has the specs to make the phone worthwhile as a standalone device. The Padfone will ship with the new Qualcomm Snapdragon 4 dual-core CPU running at 1.5 GHz (the same CPU inside the US version of the HTC One X). The phone sports a 4.3-inch Super AMOLED qHD display (960×540 resolution) with Gorilla Glass, which already seems like it could have a better resolution.
The phone also packs and 8MP rear-facing camera with f/2.0 aperture, a VGA front-facing camera, and will have options of 16GB, 32GB, or 64GB of storage space.
The Padfone Station is a 10.1-inch tablet dock that will have a 1280×800 display, along with a front-facing camera. It will also be able to sue the Padfone's rear-facing camera.
The Asus Padfone will ship in April with support for HSPA+ networks. An LTE version of the phone will follow later this year.
It's an intriguing convergence device, making it easy to just carry essentially one device at all times. It would make it much easier to sync data to just one device and have it accessible on both a phone and a tablet. We have an April release window, now we just need to wait on an exact date, pricing, and carrier announcements.