Asus Patches GPS Issue on Transformer Prime With Free Hardware Dongle
To appease users and early adopters of its quad-core Tegra 3-powered Transformer Prime tablet, Asus is offering a free GPS hardware dongle for owners of the slates. It was discovered after the Transformer Prime had hit the market that the device's metal construction had resulted in diminished GPS reception from the location chipset that Asus had employed on the tablet, forcing the company to remove GPS features from its marketing. Now, it appears that Asus is trying to do the right thing with the free accessory.
According to an Asus product manager who had posted on a thread over at XDA-Developers, the company is readying a free dongle to remedy the GPS reception issue, which will be free to all owners of the Transformer Prime. The dongle is said to follow the same aesthetics as the tablet and will utilize the dock connector on the bottom of the tablet when held in landscape orientation, and another user of the forum says that he is in the process of testing the GPS dongle. The dongle will fit flush with the bottom edge of the tablet, according to the user.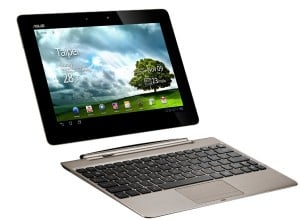 According to The Verge, a TF201–the code number for the Transformer Prime tablet–GPS Extension Kit had recently appeared in the database for the National Radio Research Agency in Korea, which is the equivalent to the U.S.'s FCC.
Asus so far has not offered any comments nor has the company made any announcements surrounding the GPS Extension Kit. A timeline for release is not yet available.
It's unclear if the GPS Extension Kit will completely block the dock connector so that users would have to choose to use the dongle or a dock connector accessory, like Asus's laptop dock accessory, or if the GPS dongle would have a pass-through connector so that another dock connector accessory could be added on top of the GPS dongle.
Since the Transformer Prime was debuted, Asus had also debuted several new slates in its new Transformer Pad series. The company is also speculated to be building Google's debut Nexus Tablet.