ASUS ZenFone Zoom Smartphone Release Date Revealed
At the beginning of 2015 during CES ASUS unveiled a brand new smartphone called the ZenFone Zoom. Offering some of the best sensors and optical zoom inside of any smartphone. However, the phone was never released. This week at CES 2016, it's back, ready for a global release, and we have all the details below.
The new ASUS ZenFone Zoom promises to be one of the best cameras inside of any smartphone, which is a bold claim. We've seen others do something similar, but the difference here is the phone is still a thin, quality Android smartphone, and one that won't break the bank.
Read: Samsung Galaxy Camera 2 Review
Samsung's offered similar smartphones in the past, but they never received much traction and were often priced too far out of reach. ASUS has a different plan for 2016, and the new ZenFone Zoom will be available February 1st for only $399.
https://www.youtube.com/watch?v=sUQU9ZYDAx4
Live at CES 2016 in Las Vegas ASUS revealed all the details. After nearly a year of waiting its impressive camera-focused Android smartphone is finally ready to be released.
The ASUS ZenFone Zoom comes with a 5.5-inch full 1080p HD display, an Intel Atom Z3590 processor with 4GB of RAM, 64GB of internal storage with a micro-SD slot for expansion, so you'll have plenty of space for all those great photos and video. Other specs include a 3,000 mAh battery, laser auto-focus, dual-stage LED flash and runs on Android 5.0 Lollipop. Not the latest Android 6.0, or even the more recent Android 5.1.1 Lollipop from last year.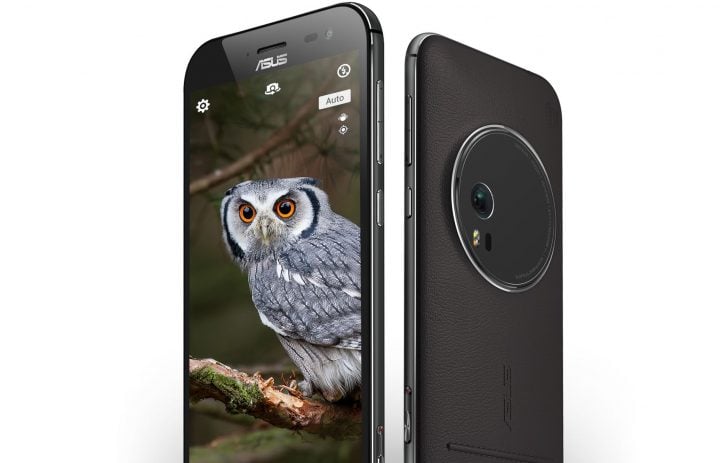 The big aspect of the phone, of course, is the camera. ASUS put most of their effort into the beautiful sleek design, genuine leather back, and the big camera around back. It features a 13MP camera full of fancy options and settings. The sensor is f/2.7-f/4.8 with 3x Optical Zoom and Optical Image Stabilization. Add in the laser auto focus and dual flash, and users should get some pretty capable photos from this smartphone.
According to ASUS the new ZenFone Zoom will retail for the impressively low price of only $399, and hits the US, and other regions starting on February 1st.