Atrix 2's PenTile-less Displays Shows Crisper qHD Display, But Can It Compete with 720p Displays?
We're starting to hear more about AT&T's Motorola Atrix successor, which has been called anything from the Atrix 2 to the Atrix HD. Now, we're beginning to learn more about this device's display which sets itself apart from the original Motorola Atrix 4G released earlier this spring. In addition to being a bit larger–it's now 4.3-inch–the display appears to eschew the PenTile sub-pixel technology that's found on other qHD displays currently.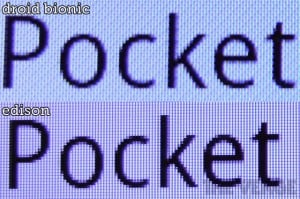 Most recently, the Motorola Atrix 2 was recently spotted at the FCC and the revealed details suggest that the device will launch with 4G HSPA+ and not with LTE. The device is also known as the Motorola Edison. The device being examined in an early preview by The Verge bears AT&T's branding.
Like the Motorola Atrix 4G, the Atrix 2 will feature a qHD resolution, which means a screen that supports 960 X 540 pixels. However, unlike the Atrix 4G, which uses a PenTile arrangement to conserve power, the new Atrix 2 may eschew the PenTile arrangement all together. What that means for the end user is a crisper, cleaner display that won't appear grainy or pixelated.
In The Verge's initial hands-on with the yet to be released and announced device, the site noted that the internals appear similar to that of the Droid Bionic, including possibly 1 GB RAM, Webtop support, and a dual-core Texas Instruments OMAP CPU. The Atrix 2 will have a textured plastic back cover like Samsung's Galaxy S II devices.
While the improvement in screen sharpness is welcomed, given that 720p HD displays are coming to devices in the near future, the Atrix 2 will need to be released soon to be competitive on the market.