AT&T Announces Five New Android Smartphones: Motorola ATRIX 2, Samsung DoubleTime, Samsung Captivate Glide, Pantech Pocket and prepaid AT&T Avail
On the eve of 2011's Fall CTIA, U.S. GSM carrier AT&T has announced five new Android smartphones, which brings the count of this year's Android lineup for the carrier up to 19 devices. The five new devices include the Motorola ATRIX 2, Samsung DoubleTime, Samsung Captivate Glide, Pantech Pocket and prepaid AT&T Avail.
https://youtu.be/UyVdlz7X588
First up is the Motorola Atrix 2, which has been leaked numerous time as the Atrix 2 and the Atrix HD. Surprisingly, in roughly a little over half a year since the original Motorola Atrix 4G, an HSPA+ smartphone, debuted, Motorola and AT&T are already announcing the launch of the device's successor, which will also join the Webtop OS family and will come with its own Lapdock 100. Unfortunately, though, that means that those who have plunked down for the original Lapdock accessory for the Atrix 4G won't see that $300 investment be forward compatible with the new handset.
The device will come with a dual-core 1 GHz processor, like its predecessor, though AT&T's press release did no mention who makes the mobile CPU–the original Atrix utilized an NVIDIA Tegra 2 chip. Additionally, it will join its siblings on rival carriers with a larger 4.3-inch display, similar to the Sprint Photon and the Verizon Droid Bionic and Droid X2, with a qHD resolution, which is up from the roughly 4-inch display on the original Atrix 4G. Unfortunately, in an age where 720p HD resolutions are coming into play, the Atrix 2 will fall short when you think about the future-proof screen display resolution. It will come with 8 GB storage plus the ability to add additional storage through a micro SDHC card slot, Android 2.3 Gingerbread, 1 GB RAM, an 8-megapixel camera with LED flash, 1080p HD video recording with 30 frames per second, front-facing camera, and compatibility with AT&T's 4G HSPA+ network for up to 21 Mbps–AT&T caps out now at a theoretical 14.4 Mbps, which is what's found on the latest iPhone 4S. That also means one other thing–this handset will launch without LTE support.
The Samsung Captivate Glide is more akin to the original Galaxy S 1 smartphone, and it will find itself in the company of cousins the Epic 4G (Sprint) and the Stratosphere (Verizon). The Samsung-made device will utilize 4G on AT&T's HSPA+ network, providing a theoretical maximum download speed of 21 Mbps like most new HSPA+ devices launched by AT&T, though you can expect less speeds as far as real-world performance. Unlike other Galaxy S1 derivatives, this one will pack in a dual-core CPU from NVIDIA and will come with 1080p HD video recording. It will have an 8-megapixel rear camera, 1 GB RAM, and 8 GB micro SD card pre-loaded with the ability to augment to 32 GB.
The Samsung Doubtletime is an interesting handset, and like its name suggests, double means dual-touchscreen displays. The device will utilize a clamshell form factor with a QWERTY keyboard when the clamshell is opened. Probably aimed at the mid-range text-centric market, the Doubletime features Android 2.2 Froyo, which is odd as wer're already looking ahead to Android Ice Cream Sandwich and Android Gingerbread seems to be the norm these days, alongside two 3.2-inch touchscreens with HVGA resolution. The device will be powered by a 600 MHz Qualcomm CPU. The form factor of this device is akin to, but not quite the same, as an LG handset speculated for T-Mobile USA.
The Pantech Pocket is another interesting mid-range handset with a lot going for it. The device is a 4G HSPA+ device, and will feature a 4-inch SVGA display, meaning that it will have a high resolution 600 X 800-pixel touchscreen. Launching with Android Gingerbread, the Pantech Pocket will feature a slim profile, 5-megapixel camera and HD video recording.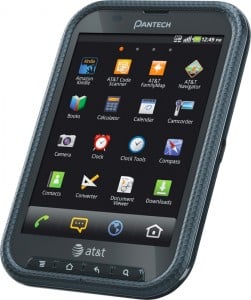 AT&T will be launching the ZTE-made pre-paid AT&T Avail for its GoPhone lineup. The device will have a 3.5-inch touchscreen, 5-megapixel camera, Android 2.3 Gingerbread, and 512 MB ROM/RAM.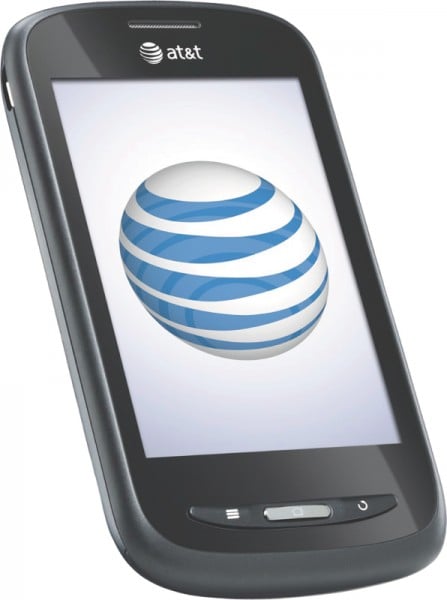 The carrier has still yet to announce pricing and exact availability of these handsets, except to say that they'll be released in 2011.
Press Release:
AT&T Exceeds 2011 Android Commitment, Announces Five Smartphones
Availability of Motorola ATRIX 2, Samsung DoubleTime, Samsung Captivate Glide, Pantech Pocket and prepaid AT&T Avail, bring total count of new Android devices this year to 19
Dallas, Texas, October 11, 2011
In January, AT&T* announced plans to introduce 12 Android devices in 2011 and today AT&T confirmed that goal has been met and will be exceeded during the fourth quarter.
AT&T announced today the upcoming availability of five new Android smartphones, the Motorola ATRIX™ 2, Samsung Captivate™ Glide, Samsung DoubleTime™, Pantech Pocket™ and the AT&T Avail™, a new smartphone option for prepaid customers. These smartphones will up AT&T's 2011 Android lineup to 19, with more planned to follow.
Motorola ATRIX™ 2
The Motorola ATRIX™ 2 combines "extreme power" with "life of the party" all at an affordable price. With its 1 GHz dual core processor and access to 4G speeds, entertainment lovers will revel in the ability to quickly download music and video and browse rich web pages in high-resolution on the 4.3-inch qHD display. Capture video in 1080p HD and display it on any size HD monitor with an HDMI cable using Mirror mode. With Motorola's webtop application, you can browse the web with a full Firefox browser. Connect to the new Motorola Lapdock 100 or use the optional HD Station and browse the web on any size HD TV or monitor**.
While the ATRIX 2 boasts a great deal of entertainment value, features such as device and microSD card encryption, enterprise-grade VPN, enhanced Exchange options and personal information management and remote wipe make this device business-ready. Users will enjoy the new free ZumoCast app, giving users hassle-free access to their music, playlists, pictures and videos stored on their computer.
UMTS 850/1900/2100
GSM 850/900/1800/1900
4G HSPA+ 21 Mbps (Category 14)
1 GHz dual-core processor
Internal memory: 8 GB ROM, 1 GB RAM, 2 GB microSD™ card (expandable to 32GB)
Android 2.3 (Gingerbread)
4.3-inch qHD screen 960x540TFT, with more than 500,000 pixels for sharper, clearer display
8 MP camera and LED flash
Front-facing camera
1080p HD video capture, 30 frames per second playback
On Device Encryption (ODE) and Enhanced Exchange ActiveSync® (EAS)
IPsec VPN
Lapdock 100 Accessory
Samsung Captivate™ Glide
The Samsung Captivate Glide is a 4G Android smartphone that keeps you moving with a thin, side-slide QWERTY keyboard and a powerful 1 GHz dual core processor. Running Android 2.3, the Captivate Glide features access to 4G speeds, a 4″ Super AMOLED screen, 8-megapixel flash camera with HD (1080p) video recording and a front-facing camera for video chat.
For the business professional, the Captivate Glide has enhanced Exchange ActiveSync support for IT policies, task synchronization and global address lookup. Know your information and network are secured with virtual private network access and device encryption.
UMTS 850/1900/2100
GSM 850/900/1800/1900
4G HSPA+ 21 Mbps (Category 14)
1GHz Nvidia Tegra 2 AP20H dual core processor
1GB RAM/1GB ROM/8GB Internal microSD™ to 32GB (not included)
Android 2.3 (Gingerbread)
4-inch 480×800 WVGA Super AMOLED™
Dual camera – 8MP Autofocus w/LED + 1.3MP front
Full HD 1080p video camera + HDMI playback
Enhanced Exchange ActiveSync® (EAS) to sync email, contacts, calendar and tasks
Device and SD card encryption
Virtual private network support
Mobile Device Management (MDM)
Samsung DoubleTime™
With its compact design and dual touch screen with a full flip keyboard, Samsung DoubleTime is perfect for texting, multitasking and staying connected to social networks. Running on Android 2.2, DoubleTime boasts a white and pink color scheme and features a 3.2 MP digital camera with a camcorder, voice recognition, a dedicated function key for shortcuts, drag-and-drop widgets, five scrolling home screens and an expandable menu with scrolling panels.
UMTS 850/1900/2100
GSM 850/900/1800/1900
Processor Qualcomm 600 MHz
Onboard Memory Supports 260MB
Android 2.2 (Froyo)
microSD™ memory card supports up to 32GB (2GB microSD card included)
3.2″ full touch screen display with 320 x 480 and 480 x 320 (HVGA) resolution
Pantech Pocket™
The Pantech Pocket is a slim Android 2.3 device ideal for customers focused on social entertainment and messaging. With a 4.0″ SVGA touch screen display, wide profile virtual keyboard, 4G support, 5MP camera, and access to the Android Market, it is the perfect device for those wanting a wider screen for a better experience with browsing, navigation and entertainment in a one-handed design.
UMTS 850/1900/2100
GSM 850/900/1800/1900
Internal Memory: ~600MB plus 2GB microSD™ included.
User Memory: 2.5 GB included (Includes a 2 GB microSD Card)
Support for up to 32GB microSD
Android 2.3 (Gingerbread)
Full touch 4″ SVGA display
Screen size & resolution: 4″ (600×800) 16M TFT
5 MP camera with flash and HD video recording
114.7mm x 78mm x 11.3mm
Weight is 4.66 oz
Bluetooth: v. 2.1 + EDR
Wi-Fi and access to AT&T hotspots
AT&T Avail™
The AT&T Avail from ZTE is the second Android smartphone launched by GoPhone, AT&T's pre-paid offering. This device features a 3.5-inch touch screen, 5- megapixel camera and runs on Android 2.3 OS. AT&T Avail provides an affordable option for customers seeking the Android smartphone experience while still maintaining control of their usage and monthly bill.
UMTS 850/1900/2100
GSM 850/900/1800/1900
Internal memory: 512 MB ROM, 512 MB RAM, 2 GB microSD™ card
Android 2.3 (Gingerbread)
3.5-inch capacitive touch screen
5 MP autofocus camera and video recorder
Seven customizable homescreens
Wi-Fi capable
AT&T Android Portfolio
Committed to serving the growing number of Android fans, AT&T now provides more options for customers seeking the Android OS experience at a variety of price points, form factors and through unique services.