AT&T's Motorola Atrix 4G: Deceptive Pricing Strategy or Uninformed Customer Service?
With the wide availability and highly anticipated launch of the Motorola Atrix 4G on AT&T on Tuesday, February 21, 2011, as a flagship Android smartphone, the smartphone is bound to attract a lot of attention. However, the way that AT&T is handling pricing and sales of the device, it's caveat emptor as checks with a number of various AT&T-owned retail channels have yielded different information on the device's contract-free pricing.
While AT&T claims that the device is priced similarly in stores and through its Web channel, my checks show otherwise when dealing with a contract-free Atrix 4G. Pricing in-congruencies will most likely confuse consumers, and given that AT&T's theoretical 14.4 Mbps download speeds of its 4G networks is slower than rivals like Verizon Wireless and T-Mobile, the carrier may not want to upset customers and potential customers, especially at a time when rival Verizon Wireless had just landed the iPhone and is gearing up to launch its own 4G LTE smartphones.
Ambiguous and Mixed Messages
Both AT&T's Web store and retail stores list the Atrix 4G at a $499.99 unsubsidized price. Oddly, though, the Web store's language is a bit ambiguous. Unlike Verizon's online portal, which discloses its contract-free price as "Full retail price," AT&T just quotes the price as a "Package price"–the ambiguity here is that does the price include the Laptop Dock optional accessory? In this case, no, the package price is just the price of the Atrix 4G. Though it's listed at $499.99, there was no way to buy the phone online sans contract–with a contract, there was a $300 Online discount that brought the price down to $199.99 with a contract–so I had to call up tele-sales. Furthermore, is the "Package price" the price of the Atrix 4G sans contract?
AT&T Claims Parity
According to the carrier's disclosure on pricing, prices through AT&T's online and retail channels should be comparable.
"Online Price" is generally the same as prices offered at our AT&T company-owned retail locations, however, phone prices and selection may vary. Phone prices at retail locations may also vary based on rate plan or contract length.
Disparity between online pricing, as AT&T's language suggests, and its retail store pricing is due primarily to rate plan and contract pricing. Sign up for a 1-year contract and your phone cost would be more–or less subsidized–because you aren't as committed to the carrier in the long-run.
What You See Is Not What You Get
While AT&T retail stores told me that the ATrix 4G without a contract would go for $499.99, the carrier's own telephone sales department, along with its online chat customer service representative, indicated that the full non-contract price for the Atrix 4G is not the $499.99 package price (before online discounts, which is what you'd get if you got a contract as implied by the webpage), but rather it is more expensive. As my online chat representative says: "The no contract price is $599.99."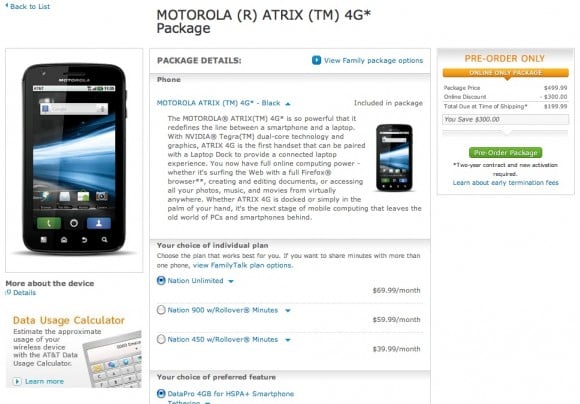 Wait, what? Retail stores at three different San Jose, California corporate-owned AT&T stores told me that the no-contract pricing is $499.99.
According to AT&T's tele-sales people, the listed $499.99 price is not the contract-free price. Instead, it is what they could charge for an Atrix 4G without a discount. The rep said, "AT&T is offering the phone currently at $199.99 [with online discount].  They are saying without the online discount they could be selling the phone with a 2 year contract for $499.99." Hence, the non-contract price, according to tele-sales's and my web chat agent's logic, is $600.
There Really Is No Price Parity at AT&T
While we're focusing on the Atrix 4G's launch price in this article, I have encountered similar pricing disparities for another AT&T 4G HSPA+ smartphone, the HTC Inspire 4G. Though the Inspire 4G is listed at $399.99 contract-free at one AT&T store, another store in San Francisco, California had quoted me $449.99 for the phone while a third AT&T store had quoted me $499.99 for the device. I didn't check with tele-sales nor with the web chat agent to see what the online price would be for the Inspire 4G.
AT&T, Could You Please Follow the Industry??
When carriers follow the lead of the industry, it usually means bad things for consumers. The last time that this happened, we saw carrier after carrier raising their pay-per-use text messaging costs for those without an SMS bundle, but in this case, AT&T really ought to follow the lead of Sprint, T-Mobile, and Verizon Wireless, which all delivered pricing parity across Web, retail, and telesales channels.
I did a check with all three rival national carriers and found that Sprint's "Regular price," T-Mobile's "Suggested retail price," and Verizon's "Full retail price," monikers and associated pricing for handsets listed on their respective webpages are in fact the device's actual non-contract price. The check involves two different smartphones per carrier and 3 different retail channels, and all three rival carriers demonstrated that they are able to offer the smartphone at the price that they quoted online.
In the pricing check with AT&T's rivals, the final lower price, after "instant savings" and "instant discounts" promotions, is in fact the two-year contract price. If AT&T follows the leadership of their peers, the Package price should be the non-contract price, and the Online discount should be applied for a two-year contract to yield the final total due amount when you sign on the dotted line. However, as I found out in my conversations with various AT&T channels, that isn't the case.
So Why Not Buy at a Retail Store?
If it's tele-sales and Web sales that are giving me trouble, why not buy at a retail store? Simply because AT&T does not want to sell contract-free phones at retail. According to one local retail store representative, the store could only offer the Atrix 4G on contract and cannot offer it contract-free when it first launches. When pushed, the rep however could not give me a timeframe of when the store could sell a contract-free offering after launch.
What good is my stash of cash–$499.99 and the equivalent state sales tax to be exact–good for if I can't use it to buy the phone online sans contract (the price is $599.99 as quoted online) nor could I walk into an AT&T store to buy the Atrix 4G since AT&T won't sell it to me in the initial phases of launch without contract? By contrast, not only did all three rival carriers of AT&T offer me pricing parity between all retail channels, they were also able to offer me contract-free phones on launch day (or within a week of launch in a few instances with T-Mobile).
AT&T's sad ploy and attempt to try to lock you into a contract is really not deserving nor truly warranted. Though the Atrix 4G may be a highly popular smartphone, AT&T really doesn't have to worry about users in the U.S. switching carriers. Neither Sprint nor Verizon owners can use a GSM phone on CDMA/WiMax/LTE networks. Additionally, what good is the 4G aspect of the phone on T-Mobile when the phone doesn't even support the latter carrier's HSPA+ frequencies? At this point, the software side of Android cannot fully exploit the device's dual-core CPU so the dual-core aspect is really wasted until developers can really exploit the hardware, and that just leaves the 4G portion. With AT&T and T-Mobile operating on different 4G spectrums, T-Mobile users should just get a myTouch 4G or a G2 to operate on their carrier's native 4G as importing an AT&T Motorola Atrix 4G smartphone onto T-Mobile USA's network would just yield an expensive 2G EDGE device, pricing sans contract, as this experiment proves, is yet to be determined.
When buying through AT&T, I would highly suggest checking several different stores and several different AT&T retail channels for pricing information. Now that you know, caveat emptor, or in English, let the buyer beware.

As an Amazon Associate I earn from qualifying purchases.