AT&T Denies Blocking Video Calls on Google Hangouts on Android
When Josh Smith and I got our Galaxy S4 and HTC One smartphones on AT&T's 4G LTE network in the U.S., we curiously noticed that we cannot receive video calls that originated from the Google Talk application. What was odd was that the video calls would work if they originated from the Google+ app on AT&T's 4G LTE mobile broadband connection. We had reached out to AT&T Mobility for comment, but no one responded to our request on the matter, and it looks like the same issue is persisting with the new Google Hangouts video, which essentially is replacing Google Talk on Android smartphones.
A report on The Verge notes that when a user tries to initiate a video call on 4G LTE using the new Google Hangouts app, they're politely greeted with a "you must be on a Wi-Fi network to join a video call" message.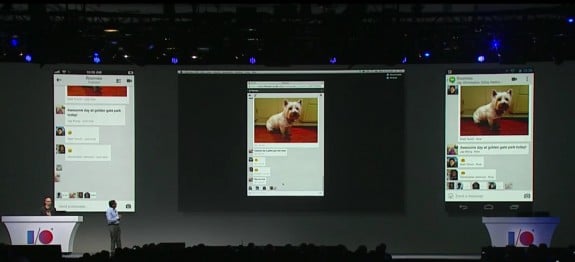 AT&T did respond to that publication this time, using vague languages denying that it was blocking video calls. Rather, it says that the call to block video calls on apps that are pre-loaded on a device is made by either the manufacturer or the OS-maker. In this case, it would either be Google, the maker of the Android OS, or Samsung, HTC, LG, or others who make the hardware.
Here's the complete AT&T statement:
All AT&T Mobility customers can use any video chat app over cellular that is not pre-loaded on their device, but which they download from the Internet. For video chat apps that come pre-loaded on devices, we offer all OS and device makers the ability for those apps to work over cellular for our customers who are on Mobile Share, Tiered and soon Unlimited plan customers who have LTE devices. It's up to each OS and device makers to enable their systems to allow pre-loaded video chat apps to work over cellular for our customers on those plans.
Hangouts video calls made using the iPhone still works when initiated over AT&T's network, curiously. AT&T's reasoning must be that the Hangouts app is not a pre-loaded app on iOS whereas on Android, it replaces the Google Talk native app despite the fact that it's a Google Play Store download.
AT&T had gotten into some hot waters in the past for blocking FaceTime calls on iOS. The company later reversed its position and relaxed its rules. Hopefully, it will do the same with Google Hangouts video calls.