AT&T FiLip Smartwatch For Kids is Part Phone, Part Tracker
AT&T announced a new partnership with FiLip Technologies to be the exclusive carrier of its brand new smartwatch for kids. It is a wearable locator and voice watch for children. Smartwatches are all the rage right now, so they took the opportunity to create one with limited capabilities that works perfect with kids and their parents.
It isn't about being a smartwatch or a phone as much as it is about parents keeping track of their loved ones. This is no Galaxy Gear device. It's specifically aimed at children ranging from age 4-11, and was designed to be extremely comfortable and kid-friendly. The FiLip is all about communicating with your kids, knowing where they are at all times, and being able to call them in case of emergency. Or to even alert them via message that dinner is ready.
Before we get into what all the FiLip watch can do, know that it comes in two comfortable sizes and four different color options. Being a device for children the design is somewhat waterproof, rather rugged and can handle those bumps, scratches or trouble that most kids seem to always get into.
The key with the FiLip Watch for kids is letting parents communicate. So the main features are location, voice calling and direct messages. Parents can send instant messages to their children's watches informing them to come home for dinner or that they're going to be late coming home from work. The device can communicate via voice with five designated contacts, which parents can set manually.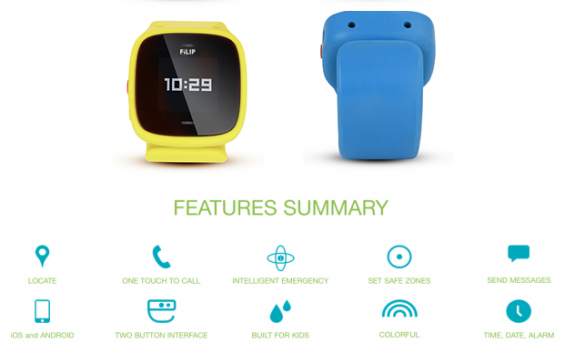 Parents can set "safe zones" for their child, and get alerted once that zone or designated area has been left. There's also an "intelligent emergency procedure" that will trigger an automatic location beacon to parents, and direct line to emergency services in case parents or the five trusted contacts can't be reached. The emergency procedure also sets off an ambient sound recording feature, but AT&T didn't provide details.
Everything sounds great with the AT&T FiLip Smartwatch for kids, but sadly they were rather quiet on pricing or plans for the connected device. If they can manage an affordable solution that meets the needs of families this could be a real hit.