AT&T Goes 4G with Samsung Infuse Android Galaxy S Smartphone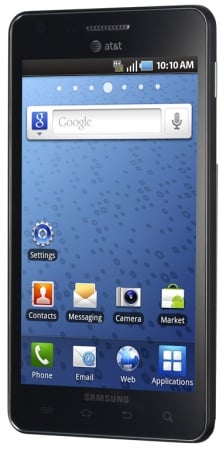 AT&T is now joining rival carriers Verizon Wireless, T-Mobile, and Sprint in announcing a 4G smartphone for its network. The carrier is going big with its Samsung Infuse 4G Android smartphone announcement, which is a Galaxy S series variant that will join the Captivate on AT&T's network. Not a lot of details are available at this time, except that the phone will sport an enhanced Super AMOLED display technology, known as Super AMOLED Plus, on its massive 4.5-inch touchscreen, which apes the 4.3-inch EVO 4G and Droid X displays. The Infuse 4G will run Android 2.2 with Samsung's proprietary TouchWiz user interface overlay and will have a 1.2 GHz processor, 8-megapixel camera with HD recording, and front-facing 1.3-megapixel camera.
AT&T is still not announcing pricing nor availability at this time.
Unfortunately, however, this phone isn't an LTE smartphone. For now, AT&T will join its rival T-Mobile USA in pushing HSPA+ with its fast download speeds as a 4G standard until it deploys its own LTE network to compete with Verizon; Sprint is using WiMax for 4G capabilities.
Another recently leaked AT&T 4G smartphone is the HTC Inspire 4G.
Via: LaptopMag

As an Amazon Associate I earn from qualifying purchases.