AT&T HTC One X Jelly Bean Update Release Date Gets Closer
The AT&T HTC One X Jelly Bean update inched closer to release today as its foreign identical sibling, the HTC One XL, started to see its Jelly Bean update roll out today in Singapore and Taiwan.
The roll out, confirmed by users on the XDA-Developers forum, courtesy of The Android Soul, is now rolling out to those HTC One XL owners living in Taiwan and Singapore, bringing those devices up from Android 4.0 Ice Cream Sandwich to Android 4.1 Jelly Bean. The update is a big one, checking in just shy of 700MB, which means that those who are seeing the update today should set aside some time to download and install the new firmware.
Read: AT&T Galaxy Note, S2 & One X Jelly Bean Updates Could Roll Out in January.
It looks like the software is rolling out Over-the-Air and that means that owners are going to want to check in the device's settings to see if the software is available. For many users, it likely will be.
This is the beginning of the HTC One XL Jelly Bean roll out. The HTC One XL, for the unfamiliar, is the brother of the HTC One X. It's identical, expect for the dual-core processor that powers the One XL. The HTC One X has a quad-core processor. In the United States, the HTC One XL is called the HTC One X on AT&T and this roll out now means that the Jelly Bean roll out for the AT&T model has inched a bit closer today.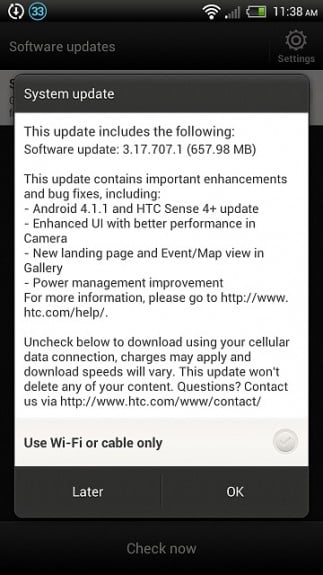 Thus far, neither HTC and AT&T have confirmed any sort of roll out timing for the AT&T HTC One X Jelly Bean update though we did find some clues that seem to point to a roll out happening in January.
Rogers, a Canadian carrier, says that it will be updating its One X with Android 4.1 in early January. AT&T and Rogers typically roll their updates out within days of each other so it could be that the same will happen with the AT&T HTC One X Jelly Bean update. Obviously, it's speculation, but it's speculation based on several past roll outs and given that the HTC One XL Jelly Bean update is rolling out now, it looks like a distinct possibility.

As an Amazon Associate I earn from qualifying purchases.