AT&T Now Listing LG Thrill 4G as Coming Soon on Website
On its website, AT&T is now listing the LG Thrill 4G, a glasses-free 3D smartphone with a dual-core ARM processor from Texas Instruments, as coming soon. AT&T's website landing page comes just after rumors that the device would launch this July. Though the website still doesn't list pricing nor availability for the smartphone, the AT&T landing page does give more information about the phone for consumers interested in the hardware specs of the device.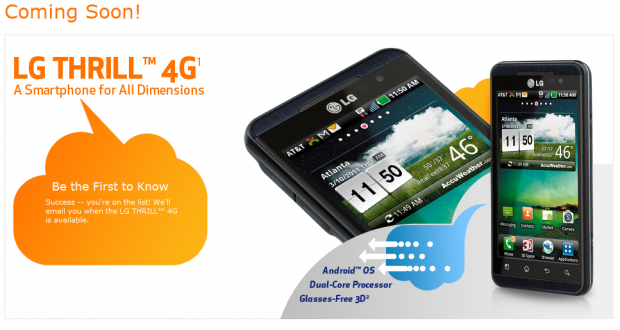 The Thrill 4G will most likely be the fifth 4G HSPA+ smartphone to be available on AT&T's network, following the launches of the HTC Inspire 4G, Motorola Atrix 4G, Samsung Infuse 4G, and the HP Veer 4G. Size-wise, the device slots in right in the middle of the huge 4.5-inch screen of the Infuse and the diminutive display of the Veer 4G.
The LG Thrill 4G will launch as the second 3D-enabled phone in the U.S. market after Sprint had debuted the HTC EVO 3D from HTC. The HTC-made device has a higher resolution qHD display compared to the WVGA display of the Thrill 4G.
It's also unclear whether or not the LG Thrill 4G will launch out of the box with Netflix support, like the LG Revolution for Verizon Wireless. As the Thrill 4G utilizes the dual-core Texas Instruments CPU, which is certified for Netflix HD streaming as the chip has the necessary security features, it could mean that the device will get Netflix support out of the box or in the near future.
The Thrill 4G is known internationally as the LG Optimus 3D.
Via: Droid Matters