AT&T Offers Free iPhone 5 With iPhone 4S Trade-In
AT&T becomes the latest U.S. carrier to offer a promotion on Apple's latest iPhone 5 flagship. AT&T Mobility is now running a trade-in promotion for existing customers who own the iPhone 4S. According to the trade-in offer, AT&T customers with the iPhone 4S can trade in their phone and get a free 16 GB iPhone 5 with a two-year contract.
Most recently, T-Mobile ran a zero down payment offer for the iPhone 5 for Mother's Day in the U.S.; under that plan customers would still be responsible for the monthly installment payments, however. And rival Verizon is offering a $100 discount on the iPhone 5, bringing the base model down to $99 instead of $199.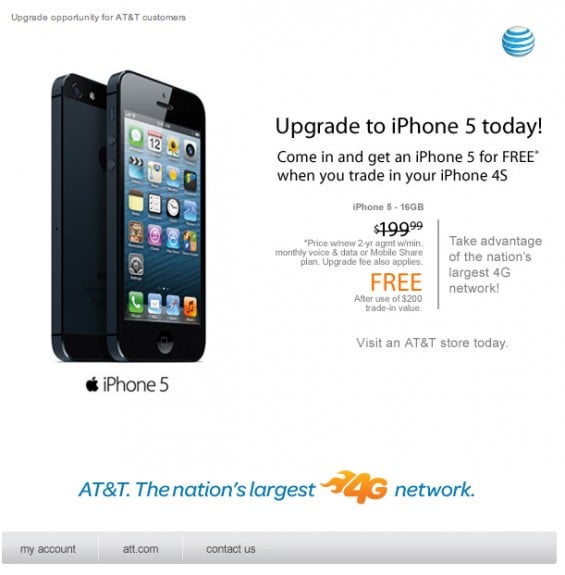 All of these promotions are time limited offers, though AT&T Mobility did not give an expiration date or deadline for redemption of the promotion. The carrier began sending out notices to iPhone 4S owners on its network, according to a report from Apple Insider.
Apple is rumored to be introducing the next iPhone, dubbed the iPhone 5S, to succeed the iPhone 5 this fall. These promotional discounts may be an attempt to move iPhone inventory ahead of the launch of the next iPhone.
Still, for customers who don't need the latest and greatest phone, an upgrade from the iPhone 4S to the iPhone 5 is still a large jump in terms of important features for iOS owners. iPhone 4S customers who do take AT&T up on this offer will be able to benefit from 4G LTE support on AT&T's growing network, and the iPhone 5 offers a slightly longer display that's better for video watching.
For customers who do want the latest iPhone, it's perhaps a better idea to wait a few more months and see what Apple has in store for the fall. The iPhone 5S is rumored to add security features, such as a fingerprint reader, that will make it easier to unlock the phone and enter passwords and log-in information on websites. It may mark Apple's entry into the digital wallet space with security for credit card information.

As an Amazon Associate I earn from qualifying purchases.