AT&T Preparing to Axe HTC Status Facebook Phone? (Updated)
The HTC Status, AT&T's so-called Facebook Phone, has been on the market for a grand total of 36 days. It launched on July 17th and AT&T was pretty thrilled about the launch. Turns out, consumers haven't been too thrilled with the device and that's what counts. According to TechCrunch, sales have been dismal and Ma Bell, just 36 days into this phones existence, is about ready to drop the HP kill hammer down on the handset.
According to several of their sources, the phone is performing well below expectations and because of that, it should only be a matter of time before AT&T ditches the device altogether.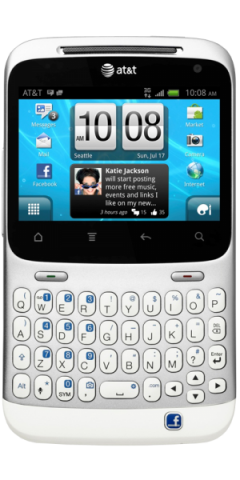 The Status really never had a chance. 2011 has been marked by tons of new Android smartphone releases and Facebook never threw its weight behind the phone. Those, combined with a weak spec sheet, spelled bad news for a device that was originally announced as the HTC ChaCha all the way back in February at the Mobile World Congress in Barcelona.
Of course, none of this is set in stone, but don't be surprised to see the HTC Status fall off the face of the earth in the next couple of days.
Update: AT&T has released a statement to us saying "the HTC Status is a great product and our plans for it to be part of our portfolio haven't changed."

As an Amazon Associate I earn from qualifying purchases.