AT&T Samsung Galaxy S III All but Confirmed
For those hoping that the Samsung Galaxy S III would land on AT&T, it appears that will likely be the case after the carrier killed the upcoming Samsung Galaxy S II Skyrocket HD, a device that it announced earlier this year at CES 2012.
AT&T has confirmed to The Verge that it has shelved the Galaxy S II Skyrocket HD noting that it didn't make sense to release the device in the wake of the Samsung Galaxy S III announcement.
And while Samsung's Ryan Bidan didn't confirm that the device would be heading to AT&Ts' 4G LTE network, it's looking like that will probably be the case. After all, it's not every day that a carrier and manufacturer just up and kill a device.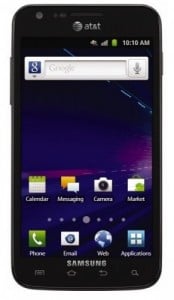 Bidan claimed that the phone would be "orphaned" in AT&T's lineup which, translated, means that it probably wouldn't have sold very well with a Galaxy S III slated to hit the U.S. sometime in June.
Unfortunately, Bidan would not confirm which American carriers would be getting the device only that it would be headed to  HSPA+ and LTE networks. AT&T, Sprint and Verizon all have 4G LTE networks while T-Mobile operates an HSPA+ network, at least until it can get its 4G LTE network up and running.
Read: Has Verizon Already Screwed Galaxy S III Owners?
While nothing has been announced, it would be pretty shocking to see the device not land on all four major U.S. carriers. We've seen evidence of a Sprint version of the phone, we've seen Verizon's model show up in a road map leak and we are willing to bet that T-Mobile, which is struggling to retain customers, will be playing host to the device as well.
The Galaxy S III is Samsung's latest smartphone and it features a spacious 4.8-inch Super AMOLED HD display, an impressive 8MP camera with loads of features, a massive 2100mAh battery, and Android 4.0 Ice Cream Sandwich.
However, while the HSPA+ model features a quad-core Exynos processor, the 4G LTE model is expected to sport a dual-core Snapdragon S4 processor.

As an Amazon Associate I earn from qualifying purchases.