AT&T Samsung Galaxy S III Shipping Date Pushed Back
It looks like the AT&T Samsung Galaxy S III shipping date has been pushed back which means that its official release date may have been pushed back as well.
The shipping date on AT&T's website, which originally was June 21st, has now been pushed back all the way to June 28th. The move takes place just a day after Sprint and T-Mobile said they were dealing with supply issues that would hamper both of their Samsung Galaxy S III launches. Keep in mind it says 'on or before June 28th' so it's possible that AT&T will ship out units prior to that date.
AT&T has not said whether this shipping delay affects those who pre-ordered before today but we expect the carrier will make some sort of announcement soon in an effort to clarify the situation.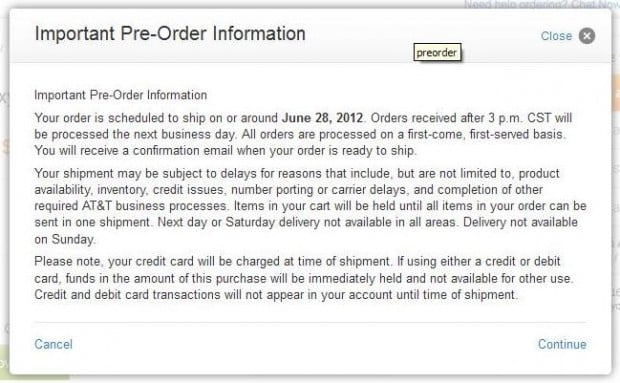 As it stands, AT&T has yet to announce an official release date for the Galaxy S III so it may have been anticipating the delays.
Yesterday, Sprint and T-Mobile revealed that some customers wouldn't be able to get the Galaxy S III tomorrow, the date that both carriers announced as the Samsung Galaxy S III release date.
Sprint is going to be shipping off some 16GB Galaxy S III pre-orders by tomorrow and that 32GB pre-orders won't be arriving until next week. Retailers aren't expecting the device until June 28th.
As for T-Mobile, it will be the first carrier to have the Galaxy S III in retail stores but it will only have it available in 29 different cities across the United States. It'll also have a few units for sale online tomorrow but those will likely sell out quickly.
In any event, those that ordered an AT&T Galaxy S III will want to check on the order to ensure that the device is still scheduled to arrive when it originally was supposed to arrive.
We'll update you if and when we hear more.

As an Amazon Associate I earn from qualifying purchases.