AT&T to Ship Galaxy S III On or Before June 21
Not one to be late to the party, AT&T has begun advising its premier business customers that they can expect to see shipments of the Galaxy S III Android flagship smartphone from Samsung to begin shipping on or before June 21. This would mean that AT&T hopes to match availability of the Galaxy S III with rivals T-Mobile USA and Sprint, both of which are expected to bring the device to market on June 21 as well.
Confirmation of the shipment date comes from Droid Matters via the AT&T Premier website. It's unclear if the phone will be in stock at retail locations on the 21st as well.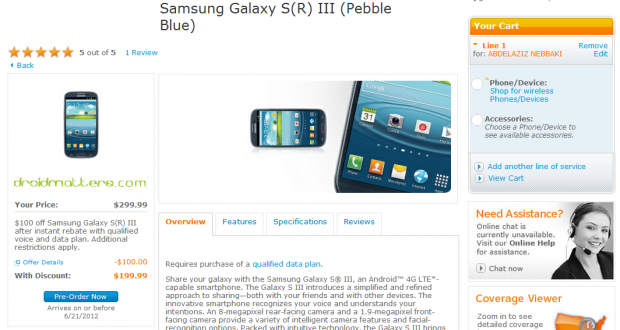 The Galaxy S III will be available in Pebble Blue or Marble White hues from all three carriers. AT&T will also be adding a third color choice for the phone with red being the final option. The Galaxy S III will be available on all three carriers in 16 GB or 32 GB configurations, with options for additional storage via a micro SDHC card slot, as well as 2 GB RAM, Qualcomm Snapdragon S4 CPU, and support for either the fastest LTE or HSPA+ 4G networks in the U.S.–AT&T's will support HSPA+ and LTE.
The 16 GB version will retail for $199 with a two-year contract while the 32 GB will cost $249 with a service agreement.
In addition to AT&T, Sprint, and T-Mobile, the Galaxy S III will also be coming to Verizon Wireless and U.S. Cellular in July with a shipment date of July 9.
With broad rollout of the Galaxy S III smartphone on four major national carriers and U.S. Cellular, the Galaxy S III is besting HTC's efforts with its One series smartphone. The One X flagship is only offered on AT&T and Sprint is carrying a rebranded and re-designed variant under the EVO 4G LTE moniker. T-Mobile USA is getting a high-end mid-tier device in the form of the One S and Verizon is getting its own re-branded mid-tier device in the form of the Droid Incredible 4G LTE. With disparate naming conventions from HTC, the One brand seems more muddied and diluted than the Galaxy S III brand that's being used by Samsung in the U.S. and internationally.

As an Amazon Associate I earn from qualifying purchases.