AT&T unveils HTC HD7S with WP7, LG Thrill 4G with 3D and Android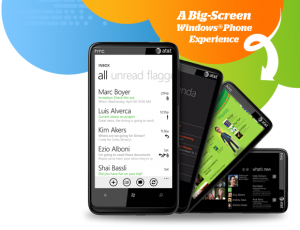 Not wanting to be overshadowed by Sprint and T-Mobile at this year's CTIA, which we'll be covering live from Florida, AT&T made two pretty impressive announcements this morning in the form of the HTC HD7S, powered by Windows Phone 7, and the LG Thrill 4G, which supports 3D and sports Android.
AT&T's HTC HD7S is pretty much the same device that has been out on T-Mobile since the tail end of last year. It's going to have a 4.3-inch WVGA Super LCD display, Windows Phone 7 with copy and paste included, a 1GHz processor, 5 megapixel shooter, and it will be coming with what AT&T notes is a "improved Super LCD display."
Unfortunately, AT&T didn't announce any release date or pricing for the HTC HD7S.
The second device, the LG Thrill 4G, is going to be powered by Android and come with a host of impressive features. It'll sport a 4.3 inch glasses-free 3D display, dual-core 1GHz processor, 8GB of onboard memory, an 8GB microSD card, dual 5-megapixel stereoscopic cameras, HDMI out, DLNA streaming, and a special 3D store called LG 3D Space.
Like the HTC HD7S, AT&T neglected to give the LG Thrill 4G any specific release date or pricing.

As an Amazon Associate I earn from qualifying purchases.