AT&T's LG Thrill 4G 3D Smartphone Delayed Again?
Though AT&T and LG have not announced the consumer availability of the LG Thrill 4G, a re-branded version of the LG Optimus 3D Android smartphone, the handset is said to be delayed for the second time. According to a recent leaked system screenshot, it seems that AT&T may not launch the handset until September 4th.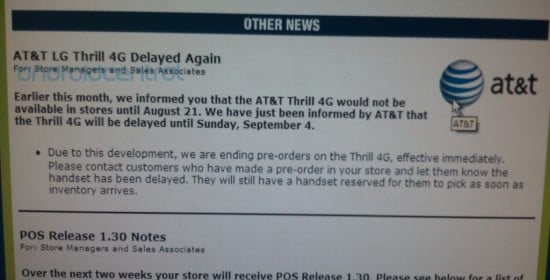 Prior to this leaked screenshot, a prior leak had shown that the handset was scheduled to launch on August 21st after some delays.
It's unclear what is causing the 'delay.' Technically, as the launch date has not been announced yet, the handset isn't delayed, but from the leaks we're hearing, it seems that AT&T is not launching the Thrill 4G as soon as it could have.
Via: Android Central