Aviary Launches Photo Editor for iOS and Android
Aviary is best known for its photo editing SDK that it gives to other developers, but now the company has its own photo editing app for iOS and Android.
According to The Next Web, Aviary produced the apps to test new features and tools before the company puts them into the SDK. The app also gives users a powerful photo editing app to compete with the plethora of other photo apps on both iOS and Android.
Before this app, Aviary's only consumer-focused efforts were the company's advanced web services that offer a variety of tools including photo editing, music creation, vector editing, and audio editing. Aviary Photo Editor is the company's first direct involvement in mobile, and it's quite impressive.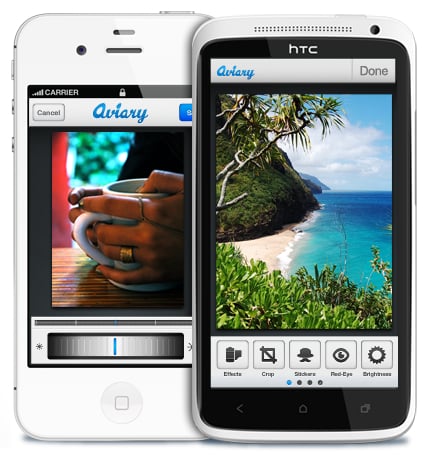 The new app offers the standard mobile photo editing tools: users can enhance the images, apply filters, crop them, and adjust brightness, contrast, saturation, and sharpness. Other features include stickers, text, and draw.
Users might find some tools more useful to them than others, and they can arrange them as they see fit. Users who love to add text to their photos can move the option to the top of the list for easier access (please don't, photos very rarely need text on them).
From our brief test of the app on an iPhone 4S, it seems very good at auto-enhancing photos and every change updated quickly. It doesn't have all the features of other apps like Camera+, but it's more than enough for most users, and it's free. Users only need to pay for extra filter packs, though we're happy enough with the included pack. Aviary Photo Editor might be the best value for a photo editing app we've seen so far.