AViiQ Ready Clips Review: Tangle Free USB Cables for iPhone, iPad and Smartphones
Carrying USB charging and sync cables for your iPhone, iPad and Android devices often means a mess of tangled wires, but not with the AViiQ Ready Clips.
AViiQ Ready Clips give users a new option you can carry like a pen in your pocket or attached to your bag. They can't tangle because the two ends connect using a sturdy rubber-like ribbon instead of thin wires. Syncing and charging your USB powered devices will is easier with one of these clips.
The AViiQ Ready Clips come in three styles, one for iOS devices, a micro-USB cable, and a mini-USB cable.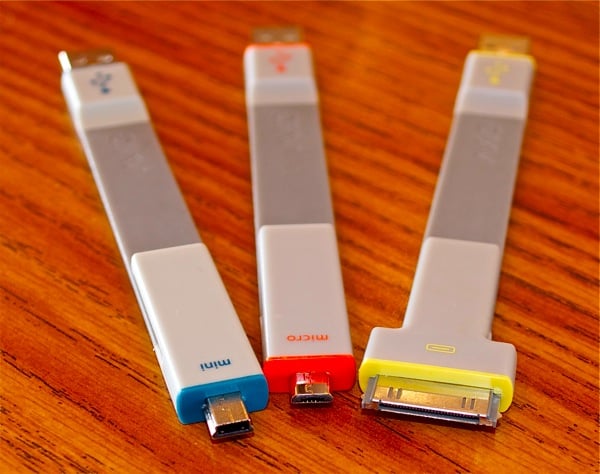 I love three things about these AViiQ Ready Clips. They can't get tangled like a regular cable. You don't have to wrap them up and tie them off with a rubber band or twist tie, which I usually do with my iPhone, iPad and Kindle Fire USB cables. Also, the Ready Clips come with a pen-style clip that you can use to hold them in your pocket or hang them off a pocket on your computer bag. I suspend them from the strap meant to hold my computer bag to a rolling suitcase.
The AViiQ Ready Clips otherwise work as expected, charging and syncing USB devices. The connectors seem sturdy and they will hold up under the normal wear and tear from sitting in the bottom of your accessory pouch.
I don't like that you can't really pick up your device while you connect it to your computer or USB charger using the Ready Clips. The cable's measure 5.5 inches long, about the length of a pen. The rubber-like ribbon is so stiff its hard to bend so at that short a length you can't easily pick up your phone as it's plugged into your computer or USB charger. I often will plug mine into my Mac and want to use it while its charging. You can't really do that while using the Ready Clip.
If you just plug your device into the computer or USB charger and leave it alone, the AViiQ Ready Clips solve a real problem – no more tangled wires or awkward wrapping of cables and tying them off with rubber bands or twist ties. That's reason alone to keep them in the accessory pouch of your computer bag.

The AViiQ Ready Clips don't cost any more than most cables. You can get them directly from AViiQ for $19.99 for two. Add $10 if you want at least one iOS charging cable. At Amazon you get a micro-USB Ready Clip for $12.99, a mini-USB Ready Clip for $12.00 and an iOS Ready Clip for $15.99.

As an Amazon Associate I earn from qualifying purchases.