6 Awesome iOS 9 Cydia Tweaks You Can Install Right Now
An iOS 9 jailbreak has been officially released, so here are a handful awesome iOS 9 Cydia tweaks that work with the latest version of iOS.
The iOS 9 jailbreak release certainly came as a surprise, as many users in the jailbreak community were expecting a jailbreak to release after iOS 9.1 releases, which could be at some point next week. However, Pangu decided to release it beforehand so that users can have an iOS 9 jailbreak a bit early.
The result of that is no complaints here, and some jailbreakers have already jailbroken their devices. Plus, we're seeing a handful of developers already releasing new iOS 9 Cydia tweaks that work with the iOS 9 jailbreak.
However, one of the big downsides to the iOS 9 jailbreak is that many popular tweaks don't yet work with the new version of iOS 9, including Activator and Springtomize 3, both of which are some of the biggest jailbreak tweaks in Cydia.
The good news is that there are still plenty of other tweaks that work with iOS 9, so if you're an early adopter and immediately jailbroke your iPhone upon hearing about the news of an iOS 9 jailbreak release, here are some awesome iOS 9 Cydia tweaks that you can install right now.
RevealMenu
3D Touch is one of the biggest new features on the iPhone 6s, thanks to the new display technology implemented on the new device. However, with RevealMenu, you can bring a part of 3D Touch to older iPhones, as well as iPads.
On the iPhone 6s, you simply press harder on the screen to activate 3D Touch, which allows you to access Quick Actions on the home screen, as well as Peek and Pop in iOS 9 apps that support it.
With RevealMenu, you can simply long-press on an app icon on the home screen to activate Quick Actions, but unfortunately Peek and Pop aren't yet included in the tweak. The good news is that RevealMenu works on iOS 8 as well.
You can download RevealMenu from the apt.imokhles.com repository.
Medusa
iOS 9 brings a new Split View multitasking feature to the iPad, allowing you to use truly use two apps at once for the ultimate productivity setup.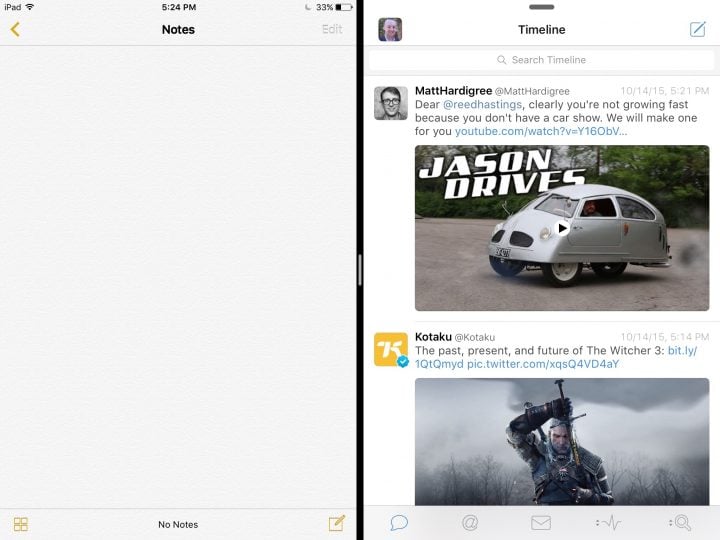 However, it's only officially available on the iPad Air 2 and the upcoming iPad Pro. Medusa brings Split View to older iPads besides just those two models, including the iPad mini. I tested it on my iPad mini 2 and it works great.
The tweak works just like it does on the iPad Air 2 with iOS 9, so it will feel like a natural feature. Plus, Medusa also works in iOS 8.
You can download Medusa from the repo.cpdigitaldarkroom.com repository.
Facebook ++
We recently discussed this tweak, but it's worth mentioning again since it's one of the best Facebook tweaks out there, and it works with iOS 9.
One of the tweaks main features is putting chat functionality back into the main Facebook app, instead of having to use the separate Facebook Messenger app.
Furthermore, the tweak has a handful of other settings, like showing timestamps for every message, sending more than six photos at once, and also disabling VoIP, which prevents the Facebook app from being used in the background, thus saving battery life.
SwipeSelection
While iOS 9 comes with a new feature that's similar to SwipeSelection, the popular jailbreak tweak works way better than the built-in feature in iOS 9, so it's a tweak still worth installing.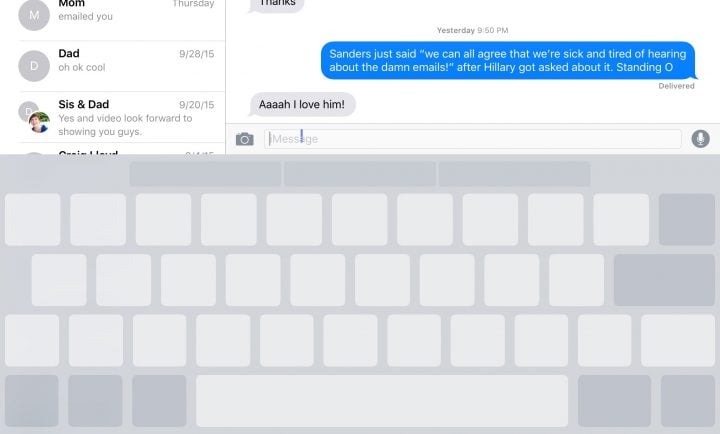 SwipeSelection allows you to move the cursor in a text box by swiping anywhere on the keyboard. It's a lot easier than how it was in older versions of iOS, where you had to tap and hold on the cursor and then carefully drag it to where you wanted it.
It wasn't the best implementation of such a feature, but luckily there's SwipeSelection to save the day. There's a Pro version you can buy, but the free version easily does the trick.
iFile
One jailbreak tweak that has been around for awhile now is iFile, and it works with iOS 9 right now.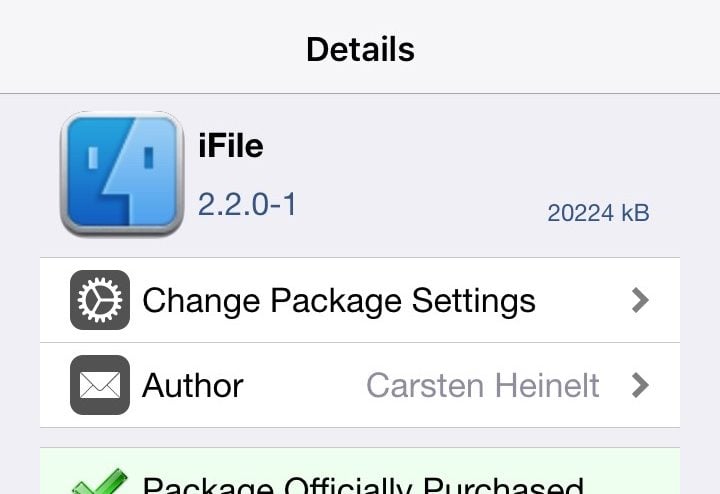 iFile isn't a tweak that will attract a large group of users, but for those who like to tinker around with iOS system files, iFile is pretty much to go-to tweak in order to do that.
iFile lets you essentially turn iOS into a file explorer, where you can tinker with the inner workings of iOS, as well as edit the code for apps and other data.
It's certainly not a tweak that just anyone should use, but it can come in handy if you have the proper know-how.
F.lux
One of the most popular jailbreak tweaks works with iOS 9, as long as you use the new beta version.
F.lux changes your screen's color temperature to a warmer tone in order to get rid of the bright blue hue that your screen emits, which can cause eye strain.
Again, it's only a beta version, but F.lux beta versions in the past are actually really good and you don't really even notice that they're beta versions in the first place, so it's definitely worth installing right now.