Baby Got Back-Type: Back-typing tablet keyboard from AlphaUI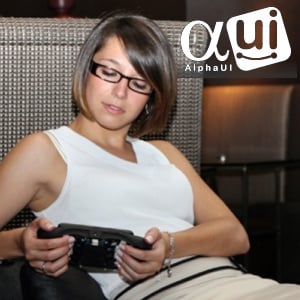 The idea's been kicked around the community for a while in shapes from transparent displays to tactile pressure spots, but a tablet with a back-mounted keyboard is looking more like a reality thanks to AlphaUI.
The product is still in the development stage, though their beta testing period has already ended. Rather than offer an entire tablet with built-in AlphaUI back-typing keyboard, they have designed it as a peripheral to fit around your tablet of choice, fitting tablets with screen sizes between 5″ and 7″. Appears to be intended somewhat with ARCHOS tablets in mind, which makes sense given both companies are based in France.
The pedal-looking keys on the back correspond with an on-screen key display, so you can see what keys are being pressed. While the on-screen display matches the layout of the keys, it does not seem to match the shape. Might make it difficult for non-typists to pick up, but I get the sense touch-typists will have an easier go with it. Video demo below.
Via NetbookNews.com

This article may contain affiliate links. Click here for more details.