BBM for Android and iOS Arrival Rumored for This Weekend (Updated)
BlackBerry's own messaging app, BlackBerry Messenger, has been announced for iOS and Android in the past, but it's rumored to hit the new platforms this weekend. According to CrackBerry, they have received several reports that BBM for Android will go live on Friday, while the iOS version will hit reportedly hit iTunes the next day on the 21st.
Furthermore, Indonesian website TeknoUp got a hold of a BlackBerry event invite that leads with "BBM For Everyone," suggesting that the event will be focusing on the release of BBM for iOS and Android. CrackBerry received a timeline of when we should expect these new apps to hit their respective app stores, starting with the launch of BBM for Android on September 20 at 7 AM ET, which is when the app will be pushed to the Google Play store.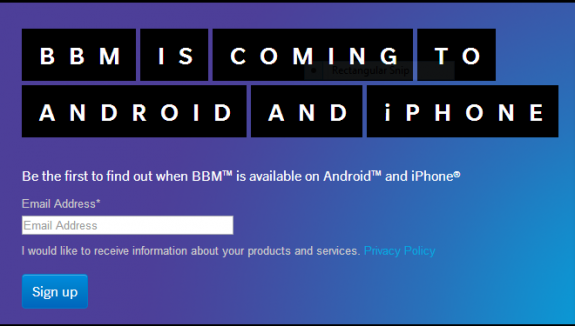 This will also be the same time that the BBM.com website will launch. We haven't heard many rumors about this website, so we're not quite sure what to expect. It could be just a simple landing page for the BBM brand, or even better, it could be a web-based version of BBM, allowing users to chat with other BBM users right on their computer, and messages will sync across devices. Of course, this is only a guess (but we're hoping).
Then, on Saturday, September 21, BBM for iOS will become available starting at 12:01am ET according to the agenda. BlackBerry announced back in May that BBM would be arriving on iOS and Android, but the entire summer went by without any word from the company as to when we might expect the app to arrive.
UPDATE: BlackBerry as officially announced that BBM for Android will hit the public on September 21, while the iOS version will land on September 22.
The rumored dates are also interesting, in part because September 20 is when the new iPhones officially release, and with BlackBerry holding this rumored event on the 19th, the company seems to be trying to overshadow the iPhone release, but we're not sure if they'll be able to take the news cycle during that time. BlackBerry announced the new Z30 this morning in an effort to overshadow the launch of iOS 7, but as we mentioned then, we're sure that most users will be watching their iPhones for the iOS 7 update notification instead.
However, if you're an avid BBM user who's looking to jump ship to iOS or Android, you finally won't have anything holding you back now.