Bear Grylls Approved Rugged Kyocera Torque Coming To Sprint March 8
Today Sprint announced the Kyocera Torque, its first rugged mid-range Android phone with 4G LTE capabilities.
The new Sprint Kyocera Torque is built to Military Standard 810G, which means it can withstand dust, shocks, vibrations, solar radiation, humidity, blowing rain, salt fog and extreme temperatures. The phone is also fits IP67 standards: full immersion in water up to one meter deep for up to 30 minutes.
As with all rugged smartphones, the Kyocera Torque can also withstand drops, so users don't need to worry about the phone breaking it it falls out of a pocket.
To show off the new phone Kyocera got Bear Grylls, host of Man Vs Wild, to demonstrate some fo the features of the phone. In the ads Grylls shows the rugged features of the phone while he takes his kids to a waterpark, jumps off staircases, crawls through mud and hikes through a snowy mountain.
The Sprint Kyocera Torque runs Android 4.1 and uses a 1.2GHz dual-core processor. The 4-inch display has a resolution of 480×800, and the phone has both a 5MP rear-facing and 1.3MP front-facing camera. It comes with 4GB of internal storage, 1GB of RAM and a 2500 mAh battery that Kyocera claims will last for 18.9 hours of talk time.
The Kyocera Torque goes on sale on Sprint on March 8. It will sell for $99.99 on a two-year contract after a $50 mail-in rebate. That means users will have to pay $149.99 for the phone upfront.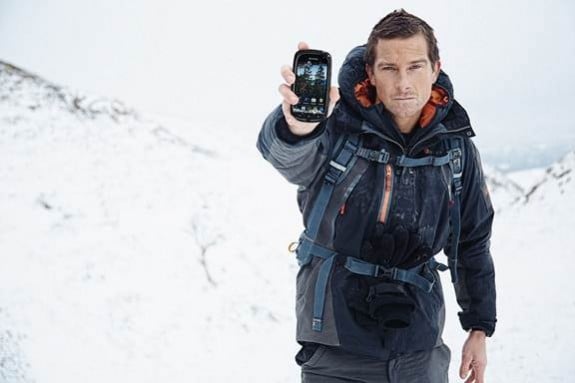 The rugged features of the phone make it enticing to some users, but there are cases for other phones that can protect them almost as well. Cases such as the ones from Otterbox for a number of smartphones, including the iPhone 5, Galaxy S3 and other Android phones.
Cases aren't the perfect solution, but with a two-year contract, it might be better to get a phone with better specs and a good case instead of wondering if the mid-range Android phone will ever see an update.

As an Amazon Associate I earn from qualifying purchases.