The Beats Solo 3 headphones' amazing battery life make them better for iPhone 7 users than any other on-ear headset. They're expensive and a bit heavy on the bass, but the Beats Solo 3's 40-hour battery life is worth the price. While the Beats Solo 3 headphones sound pretty decent and have iPhone-specific features baked in, this product is overpriced at $299.
Bluetooth headsets have been a hot topic ever since Apple killed off the iPhone's headphone jack when it introduced the iPhone 7 and iPhone 7 Plus. For years I've pretty much ignored Beats headphones, opting for and recommending Bose, Plantronics and Sennheiser headsets over the flashy Beats brand. That's all changed after using the Beats Solo 3 headphones myself. While the Beats Solo 3 headphones aren't the best value, I recommend this product to people with multiple Apple devices, so long as they don't mind spending a little extra money for convenience.
[letsreview]

The Beats Solo 3 headphones look nearly identical to the Beats Solo 2 headphones. The older headphones last for just 12 hours on a single charge, less than a third of the new model. That's because the new Beats Solo 3 packs Apple's W1 wireless chip. That's the same chip found inside of Apple's AirPod in-ear headphones. Apple owns Beats, which means Beats will likely be the only brand of premium headphones to feature the W1 chip and the incredible battery life it affords.
Beats Solo 3 Value
I really enjoy my Bose QuietComfort 35 headphones, but they are just a little too big to carry without thinking twice about where to put them. The news that the Beat Solo 3 headphones would have 40 hours of playback time between charges really caught my attention. I also wanted a headset that was more compact. What I couldn't do was justify $299 for the Beats Solo 3, which do not have active noise cancellation. Thankfully, Amazon.com chopped the price to $219 in a recent sale, making them a little more palatable to take the leap and buy my first set of Beats headphones. That's still a lot of money to spend on headphones, but I feel like I'm getting my money's worth since I'm actually using them quite a bit more than my Bose headphones on the go.
Spending $299 on a pair of headphones is a pretty serious investment and people generally only want to make one such purchase. If you're a frequent traveller, you may be better suited with noise-cancelling headphones like the Bose QuietComfort 35 headphones, which retail for $349.
https://www.youtube.com/watch?v=2hiNNGG24UA
Beats By Dre headphones are loud in more than one way. Dr. Dre and company have long marketed Beats headphones with a combination of flashy ads, celebrity endorsements and placing the products in music videos. Many Beats headphones come in attention-grabbing color combinations. I prefer more reserved headphones and don't like flashing giant logos when I'm out in public.

I opted for the black-on-black Beats Solo 3, which is about as reserved as it gets. The logos are nearly invisible, which helps me feel less like a wannabe hip-hop artist when I wear them. The black finish is glossy and attracts fingerprints. Bose does offer a matte-black, which probably would have been a better choice.
The Beats Solo 3 headphones are built almost entirely of plastic. While the design is modern enough, the plastic finish doesn't exactly shout premium headset and just feels cheap when I'm putting them on or folding them up.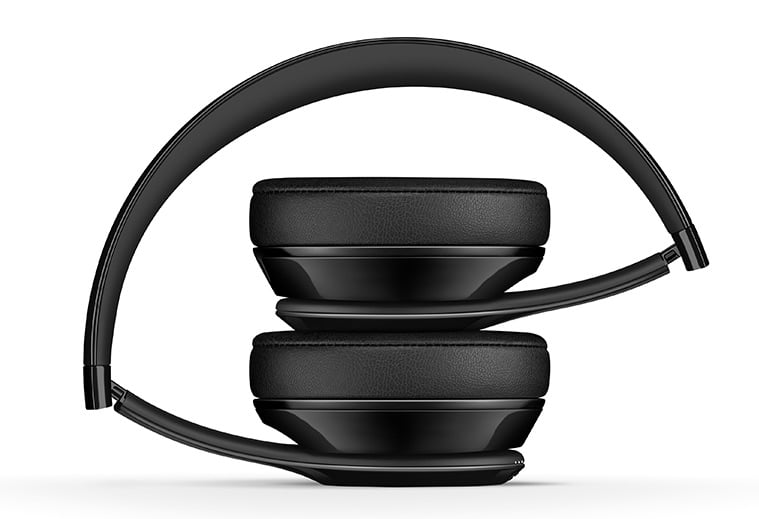 The headphones fold up into a pretty small package that can easily fits in my coat pocket or laptop bag. One thing to note is that there aren't a bunch of visible controls on the Beats Solo 3 like there are on other popular premium headsets. There's just a button to power button on the right ear cup. On the left ear cup the volume up and down buttons are hidden in the black circle around the Beats logo. The logo itself serves as a multifunction button that can be used to pause music, skip tracks, answer calls, and activate Siri.
Beats Solo 3 Review: Setup, Sound and Battery Performance
Pairing Bluetooth devices, such as wireless headphones, can be a pain for some people. To setup the Beats Solo 3, you don't have to navigate through iOS settings or MacOS system preferences. Instead, you simply turn on the headphones and a prompt appears on your Apple device's display asking if you'd like to connect to the Beats Solo 3. Once you click 'yes,' the headphones are essentially paired to all of your other Apple devices.
If you're expecting absolutely awesome audio out of these headphones you may be disappointed. While they sound pretty good compared to most cheaper headphones, I still prefer the overall sound quality of the Bose QC35 and other premium over-the-ear headphones. The Beats Solo 3 are not designed to wrap around your ears, which means you will hear ambient noise.
One area the Beats Solo 3 crushes the competition is in battery life. I've been using the Beats Solo 3 headphones with my iPhone 7 Plus, iPad Pro and MacBook Pro since I bought them and have gone as long as two weeks between charging them. While I haven't tracked exactly how many hours I've used them between charges, they definitely last more than the 40 hours per charge advertised. One afternoon I was listening to music for two hours while working and the battery level dropped just three percent.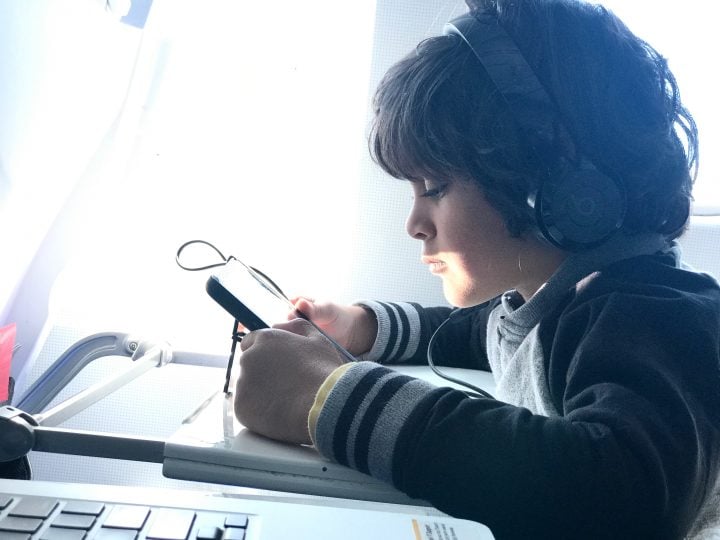 A feature called Fast Fuel allows the Beats Solo 3 headphone batteries to charge enough for three hours of playback in just five minutes. On a recent trip to New York, my son asked to use the Beats Solo 3 headphones with his iPad mini. They weren't charged, so I plugged them into a portable battery before takeoff. Once we were at a cruising altitude, I gave him the headphones and the iPad and he was set for the rest of the five-hour flight.
While you won't need to charge the Beats Solo 3 headphones often, you'll need to use a micro USB cable to do so. That's not something most iPhone users have at the ready. It would make a lot of sense for a headset tailored specifically for iPhone users to charge via Lightning connector.

The Beats Solo 3 headphones come with an audio cable that can be used with MacBooks, iPads and iPhones with standard headphone jacks. You can also use these headphones with the iPhone 7 or iPhone 7 Plus if you're willing to use an adapter. The cable has volume controls and an additional control button that can activate Siri.
Android users should avoid the Beats Solo 3 headphones since so many of the features are Apple specific. If you're an audiophile or an aspiring audiophile, you probably want to steer clear of the Beats Solo 3.  Most people will be more than pleased by how crisp their music sounds, especially if they're listening in relatively quiet environments. If the Beats Solo 3 headphones sound like something you're looking for, I suggest waiting to buy until you can find them below the $299 MSRP. Apple surely has big margins on Beats headphones and you're overpaying if you buy these at full retail price.

As an Amazon Associate I earn from qualifying purchases.