AirPods Review: Are They Worth Buying?
Apple AirPods are amazing headphones that solve the hassles of most Bluetooth headphones.
I've used the AirPods for the last two months with the iPhone, iPad, Apple Watch, MacBook Pro and Mac Pro — and I only paired them once.
With the AirPods I am rarely without headphones, and there is no need to worry about tangled wires. I just open the case, pop out one or two AirPods and start listening.
Here's what you need to know about AirPods 2, and a look at the best AirPods skins and cases if you want to change colors.
The AirPods aren't the best sounding headphones I've used and they aren't noise canceling like the Bose QC 35 headphones I use when on an airplane, but they are the best sounding convenient headphones I own.
You can use the AirPods as all around headphones, just like you could use the EarPods. They work for calls, movies, music and games. You can use them at home, at the gym, while walking and even while biking. Yes, there are specialized headphones for working out that offer some advantages, like the Plantronics BackBeat Fit, but if you want one pair of wireless headphones that fit all these roles the AirPods deliver.
[letsreview]
My favorite AirPods feature isn't how easy it is to switch between devices, it's that you can choose to use just one AirPod at a time if you want.
Using one AirPod makes taking a call or listening to an audiobook easier while you are in a store or need to be aware of your environment. It's an awesome way to use the AirPods that many people overlook. If you normally carry a dedicated headset for taking calls and another for listening to music or movies this could allow you to slim down what you carry.
When it comes to switching sources, the AirPods are better at this than any other Bluetooth headphone I've used. This is thanks to a special W1 chip inside the headphones that eliminates some of the issues you see with other Bluetooth headphones.
With many Bluetooth headphones that are paired to two devices, it can be difficult to switch from one device to another. Most often I have trouble switching from a Mac Pro to an iPad. Sometimes I have to reset the Bluetooth devices or turn off Bluetooth on one of the devices to make other headphones switch. It's a pain.
Apple AirPods simplify this, by switching to the device you want in the Control Center on iPhone or iPad or in the sound settings on a Mac. Just choose AirPods and you are good to go.
The only time I've had trouble connecting the AirPods to one of my devices is while using an iOS beta, which isn't an issue most people will have. You can pair the AirPods to an Android phone or to the Apple TV, but you'll need to do it the old-fashioned way and you don't get all the benefits of the new W1 chip.
Phone calls sound great on the AirPods and FaceTime Audio calls sound even better. The caller on the other end says I sound about as good as on the Plantronics Voyager 5200, but the caller sounds just like they do when I plug-in with wired headphones.
Music and movies sound great. If you are looking for a wireless audiophile grade experience, keep looking. For most users, the AirPods hit the sweet spot between price, portability, and sound. The AirPods sound very good across a wide range of genres, deliver good audio for movies or TV shows and make enjoying mobile games as simple as popping one or two earbuds in.
Unlike other small wireless earbuds, we've tested the AirPods range is top notch. I can walk across my house without losing connectivity or losing audio quality. When the phone is in my pocket there are no cutouts as I move around, bend over or complete a simple workout.
AirPods battery life is rated at 5 hours on a single charge, but you can use the included charging case to get up to 24 hours of battery life. Apple's ratings are spot on and plugging the headphones in for just 15 minutes will get you through another 2-3 hours of listening. The case is the logical place to store the AirPods. With the AirPods in the case losing them is not a problem most users will need to worry about.
The AirPods fit in my ears very well, as did the EarPods. I can shake, run, bounce and even dance around the house without the AirPods flying out. Your ears may be different, but if EarPods fit and stay there is a good chance that AirPods will fit. If not, you can try adding Earhoox 2.0 to your AirPods, but it will complicate charging and carrying them as you will need to remove the hook.
Each of the AirPods includes sensors that respond to touch and that know when they are in your ears. When wearing both AirPods, removing one pauses the music and resumes when you put it in. Taking both out automatically stops the track or movie. You can use these to control the volume with your voice and to use Siri by double tapping either AirPod.
You can use these to control the volume with your voice and to use Siri by double tapping either AirPod. You can play music, make a call, get directions and many other Siri features without taking your iPhone out of your pocket.
If you don't have an Internet connection you cannot use Siri and you will need to turn the volume up on your phone or skip tracks on your phone. I normally rely on my iPhone for volume and track control since I don't need to step out of the music to use those controls. Siri is as accurate on the AirPods as on the iPhone, which so you'll experience the same amount of failed voice controls.
The AirPods are $159 from Apple and at Best Buy.
Best Wireless Headphones & Earbuds
Bose QC35 Wireless Noise Cancelling Headphones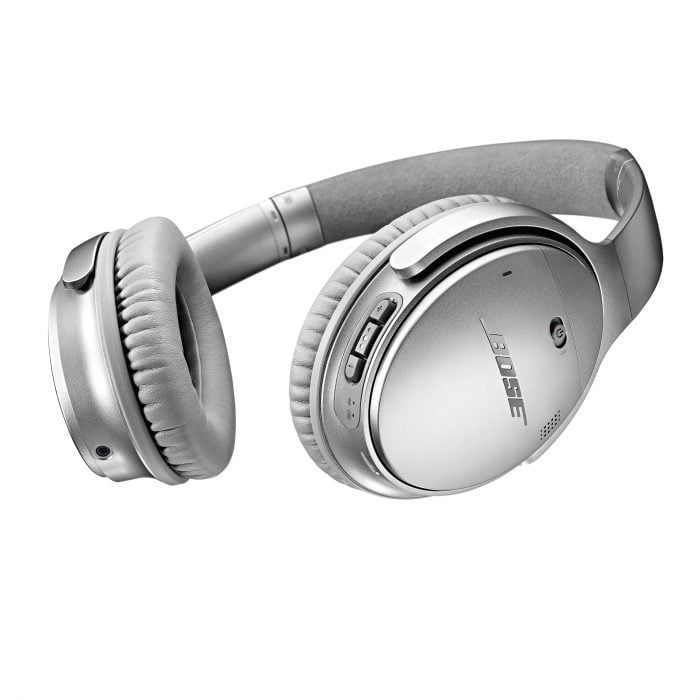 Bose sets the standard for noise cancelling headphones, delivering an instant reprieve from the noise and distractions at home, in the office and on an airplane. Now, the Bose QC35 bluetooth headphones offer this all without the need to plug a wire into your iPhone or Android smartphone. Sound quality is impressive and the range is great.
The Bose QC35 headphones are comfortable, block out distracting noises better than any other headset on the market, deliver 20 hour battery life and an option to use wired after the battery dies. Excellent call quality even in windy or noisy environments.
$349 at Amazon in Black and Silver