Benchmark Confirms Unreleased Motorola Droid 3 Specs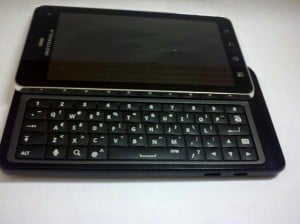 Early benchmarks on the Nenamark benchmarking site confirms some preliminary specs of the upcoming, yet unreleased Motorola Droid 3 smartphone destined for Verizon Wireless. The Android smartphone was shown by the benchmark to come with a PowerVR SGX540 graphics processor, suggesting that it would be arriving a dual-core gigahertz applications processor by Texas Instruments, and not NVIDIA as the latter company uses its own GeForce GPU inside its dual-core Tegra 2 module.
Additionally, the device does have a high resolution qHD display, which has a pixel density of 960 X 540. Early reports suggest that the display will be a 4-inch display, though that's unconfirmed by the Nenamark bechmarks. The qHD display will be an improvement over the FWVGA display of the Droid 2 and the 4-inch display will be slightly larger than the current Droid 2's screen and would match the size of the display on the Droid Incredible 2 by HTC. Compared to the Droid Incredible 2, the 4-inch display of the Droid 3 will be higher resolution, meaning cripser graphics and text.
Early leaked images of the device show that it will retain the sliding QWERTY form factor of the original Motorola Droid and Droid 2 designs, along with a slightly staggered QWERTY key arrangement. It will have a separate row for numbers, which will be beneficial to those who enter in a lot of alpha-numeric information as the dedicated number row will negate the need to hold down a function key to access the numbers.
As Motorola had promised more devices with Webtop compatibility and Laptop Dock accessories, it's unclear if this device will be able to utilize the Motorola Atrix 4G's laptop dock, or a similar laptop dock. The Motorola Laptop Dock for the Atrix 4G allows the smartphone to be used as the power to convert the laptop shell into a netbook or smartbook. The Laptop Dock, which itself is just a battery, screen, touchpad, and keyboard, would draw its horsepower, processing, storage, Internet access, and OS from the Webtop OS, which is stored on the Atrix 4G's memory. It's unclear what future devices in Motorola's roadmap would support the Laptop Dock, which has been a unique selling point and intriguing accessory, though its high price and requirement by AT&T to include a tethering plan had put off some users from adopting the accessory.
Via: Droid-Life