Benchmark Reveals Quad-Core Tegra 3 CPU in Transformer TF300T
While not a lot of information is known still about the leaked Asus Transformer TF300T, it is now known that the device will be sporting a quad-core NVIDIA Tegra 3 applications processor. Thanks to NenaMark2 benchmarking service, it appears that Asus or someone in possession of the TF300T has benchmarked the tablet, and we do know a little bit more about the specs.
Like the Transformer Prime, which has the model number TF201, the Transformer TF300T will have a 10-inch display with a 1280 X 800-pixel resolution. Unfortunately, that means that early speculations that the 300 model would have a higher resolution 1080p HD display, like the rumored Acer Iconia Tab A700, is inaccurate. The device will launch out of the box with Android 4.0 Ice Cream Sandwich.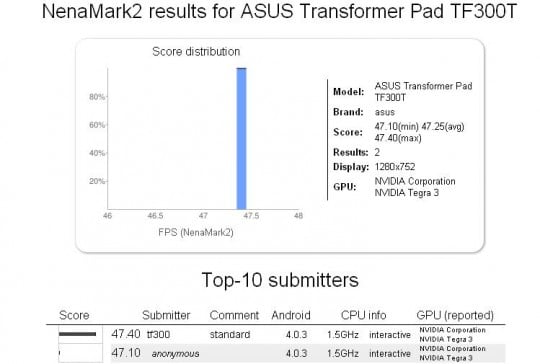 On the surface, it seems that not a lot has changed with the Transformer TF300T going from the Transformer Prime. What appears different is that rather than the unibody aluminum casing that's on the Transformer Prime, the Transformer TF300T makes due with a plastic back panel with a colored coating.
While that may seem like a downgrade for users who like the premium build quality of the Transformer Prime or lust after Apple's metal bodies, the move may help Asus address some early issues with the Transformer Prime. As metal hinders reception for wireless radios, having a plastic back cover can improve issues that the Transformer Prime had suffered from, such as poor GPS reception and weak WiFi reception.
As a result of customer complaints surrounding the GPS, Asus had removed listing GPS as a feature. Since then, some retailers have stopped stocking the Transformer Prime following customer complaints.
While the Transformer TF300T may not seem like a direct successor to the Transformer Prime, the fixes that it offers by utilizing a plastic body may be worth it to those who were eyeing the Transformer Prime.
The tablet could potentially debut at Mobile World Congress later this month.
Via: Android Community

As an Amazon Associate I earn from qualifying purchases.