Benchmarks Confirm $149 Galaxy Tab 3's Specs
Leaked benchmarks from GLBenchmark may have confirmed some of the specs behind Samsung's rumored and anticipated Galaxy Tab 3 Android tablets that are headed for a Mobile World Congress debut. The Galaxy Tab 3 is expected to launch with both a 10.1-inch display size as well as a 7-inch screen size, though the smaller screen size is a topic of hot discussion as it had been also recently rumored that Samsung may have canceled plans for the smaller slate.
The smaller slate, if it gets released, is also rumored to come with a more affordable price tag that will allow Samsung to better compete with Google and Nexus 7-partner Asus. The Asus-made Nexus 7 retails for a starting price of $199 and Samsung has been speculated to undercut that price with a $149 Galaxy Tab 3 7.0 in the past.
The display size of this Galaxy Tab 7 is still unclear as Sam Mobile is reporting that it could be a 7-inch or 8-inch display. This is rather confusing as Samsung had already confirmed that an 8-inch Galaxy Note tablet will be debuting at Mobile World Congress–the Note is a more premium tablet line that makes use of an active S-Pen digitizer.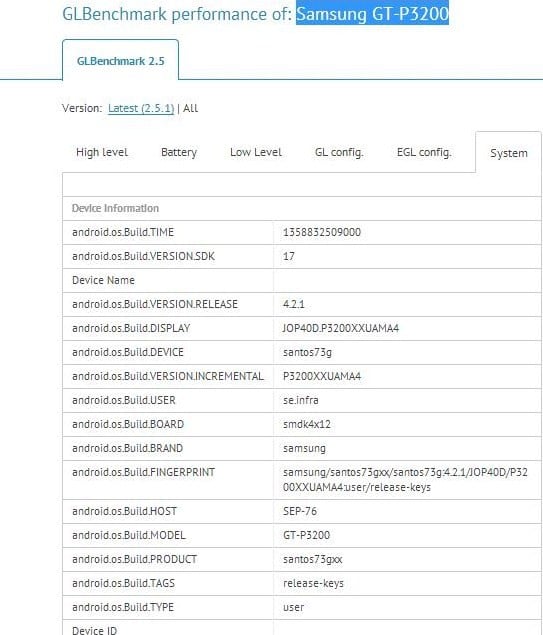 The benchmarks say that the slate will have a 1280 X 800-pixel resolution and will be powered by a processor between 200-1500 MHz with a Mali 400MP graphics. The tablet will be running Android 4.2.1, and likely with a TouchWiz proprietary UI developed by Samsung.
No other information was released by the benchmarks.
We'll hopefully know more information about the new tablets from Samsung at Mobile World Congress. These tablets will not only have to compete against the more affordably priced Google Nexus 7 and Nexus 10 tablets, but they'll also have to take on the Apple iPad and iPad mini slates as well as new Windows 8 and Windows RT tablets that are being released. Google has also been rumored to be working with LG on a new Nexus 7.7 slate that may debut in May at the Google I/O developer conference.